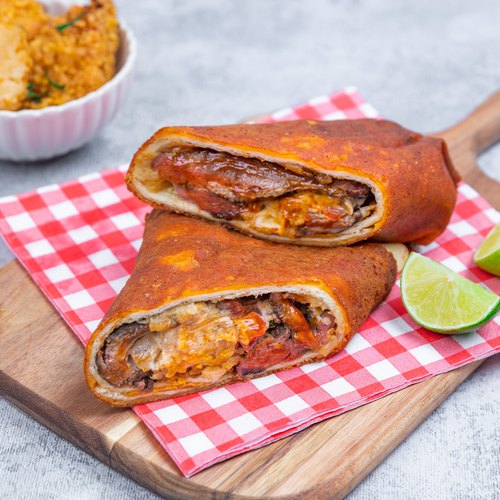 Doritos Mac & Cheese Burrito
Doritos Mac & Cheese Burrito! What a combo 😮🌯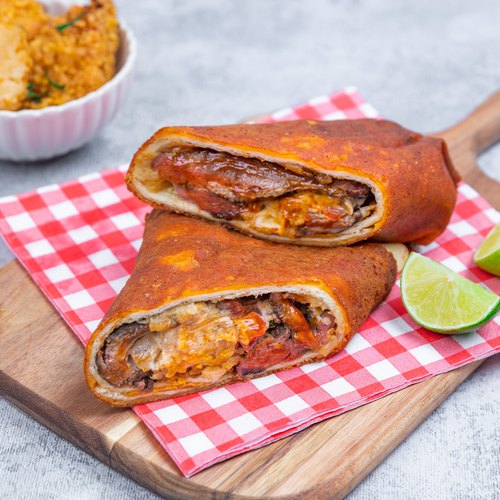 ---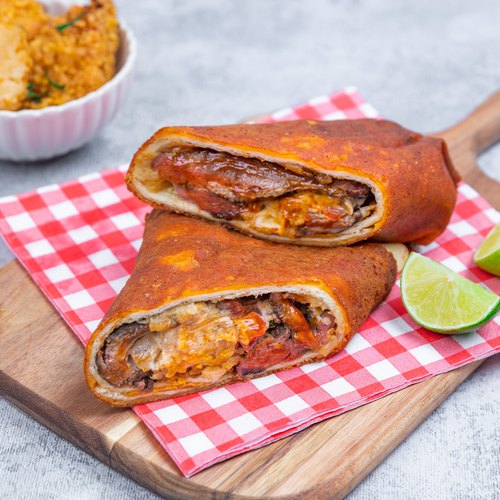 ---
Total time: 3 hours 23 minutes
Prep time: 30 minutes, Cook time: 53 minutes, Rest time: 2 hours
Ingredients for 2 people
1 steak
Cilantro
Cloves garlic
2 oranges
2 limes
Doritos bag
3 1/4 cups of milk
2 1/2 cups of macaroni
14 oz of cheddar
4 tbsp of cream cheese
Tortillas
1 tbsp of sour cream
Pico de gallo
1 egg
5 tbsp of flour
---
Tools
Ziplock bag
Aluminum foil
parchment paper
---
Step 1/4
First marinate your steak with chopped cilantro, 6 garlic cloves, the juice and zest of 2 oranges and 2 limes. Put in a Ziplock bag and place in the frige for 2 to 24 hours. Make confit garlic (about 15 cloves), coat with oil, wrap in foil and bake for 30 minutes at 350°F.
Step 2/4
Pour the milk in a doritos bag. Allow to infuse and strain the milk. Pour into a medium sized pot, bring to a simmer and add the pasta. Cook until done, add 7 oz of shredded cheddar and cream cheese. Pour into a square dish lined with parchment paper. Place in fridge. Cook the steak in a pan, remove from heat and cut into slices.
Step 3/4
Spread the caramelized garlic on one side of the torillas. Toast the other side on the plancha. Remove from the heat. Garnish with the steak, pico de gallo, sour cream and crushed doritos. Roll up the burrito. Sprinkle the remaining cheddar on the plancha, once melted coat the burrito with the cheese.
Step 4/4
Cut the mac and cheese into triangles. Coat in flour followed by egg and crushed doritos. Fry in hot oil until crispy. Serve with the burrito and enjoy!