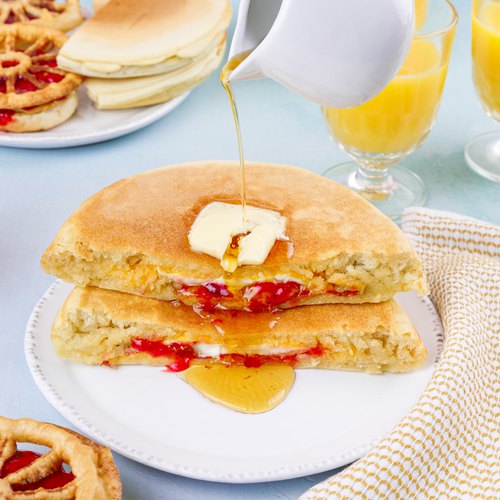 Full Package Pancakes
Full Package Pancakes! This recipe will pancake your day 🤗🥞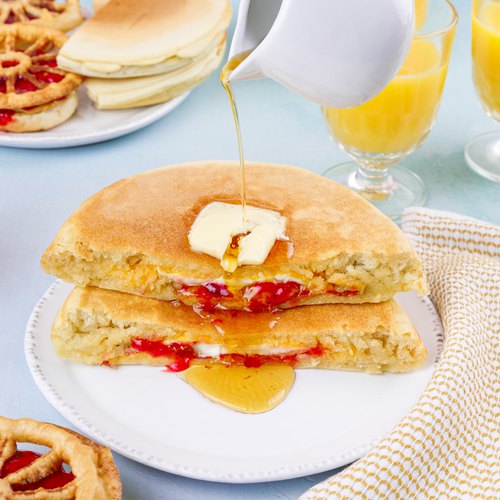 ---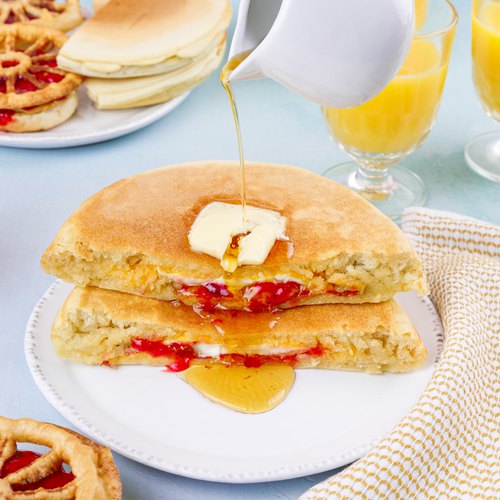 ---
Total time: 30 minutes
Cook time: 30 minutes
Ingredients for 3 people
4 cups of flour
1 tsp of baking soda
8 eggs
2 cups of buttermilk
1 tsp of salt
Bacon, cooked
6 slices of cheddar
1/2 cup of corn flour
1 cup of milk
1/4 cup of sugar
3 english muffins
1/4 cup of peanut butter
1/4 cup of strawberry jam
3 sunny side up eggs
---
Tools
Apple slicer
---
Step 1/3
In a large bowl whisk together 3 cups of flour, baking soda, and salt. In a small bowl mix 4 eggs and the buttermilk. Pour the wet ingredients into the dry ingredients, stir until combined. Preheat the skillet over medium heat. Pour in enough pancake batter to cover the bottom of the pan. Place one slice of cheddar, bacon, a sunny side up egg and then top with another slice of cheddar. Pour more pancake batter over to cover the cheese. Allow to cook until bubbles begin to form around the edges of the pancake. Flip the pancake and cook until golden and cooked through. Continue to cook 2 more pancakes.
Step 2/3
In a bowl whisk together the eggs and the sugar. Pour in the milk and stir to combine. In a medium bowl stir together flour, cornstarch and salt. Pour in the milk mixture and whisk until smooth. Pour some of the batter into a shallow bowl. Heat the oil to 350°F. Place the 2 apple cutters into the hot oil. Using kitchen tongs, carefully remove the apple slicer from the oil. Using a kitchen towel, wipe off excess oil. Still using the kitchen tongs, lower the apple slicer into the batter, careful to cover the top of the apple slicer. Then quickly place the apple slicer into the hot oil for 3 seconds. Lift out of the oil and dip in the oil again for a count of 3. Continue until the crispy pancake is beginning to color and is coming off of the apple slicer. Use a spoon to help loosen the crispy pancake from the apple slicer.
Step 3/3
On a toasted english muffin, spread peanut butter. Place a spoonful of strawberry jam on top of the peanut butter and lightly press a crispy pancake into the jam. Serve the savory stuffed pancakes alongside the sweet and crunchy pb&j english muffins. Add some orange juice and mugs of hot coffee for a fun brunch. Enjoy!