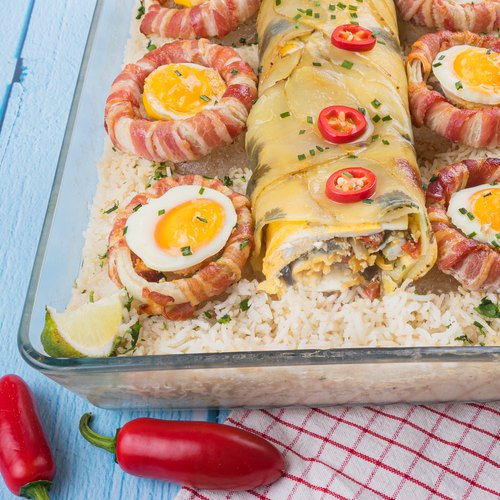 Beer & Breakfast Burrito
Beer & Breakfast Burrito! A brewtiful way to start the day 😋☀️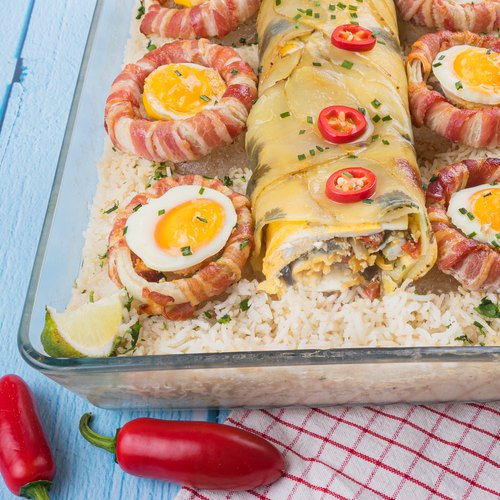 ---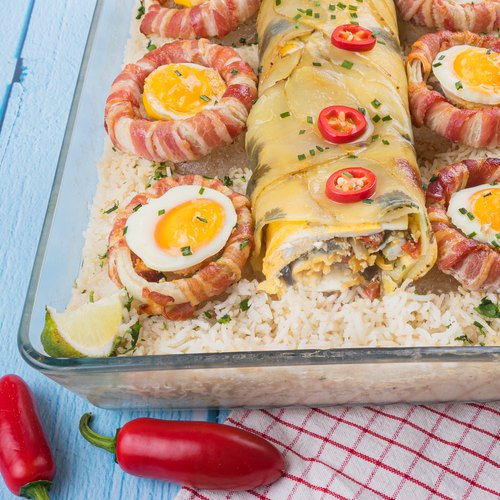 ---
Total time: 1 hour 10 minutes
Prep time: 10 minutes, Cook time: 1 hour
Ingredients for 6 people
Rice
Onions
6 beers
Bacon
6 egg
Potatoes
Coriander
Salt & pepper
Olive oil
Frying oil
Chives
Red beans
Bell peppers
Cheddar
---
Tools
Small cups
---
Step 1/5
In a baking dish add rice & onions. Place 6 glass mini cups face down. Cover the rice and onions with beer. Place bacon rings over the mini cups. Place 6 additional mini cups face up in the bacon rings. Place 1 egg in each of the mini cups. Season with salt and pepper. Bake until everything is cooked.
Step 2/5
Slice very thin slices of potatoes with a mandolin. Spread potato slices on a baking sheet lined with parchment paper. Place some coriander over the potato slices. Add additional potato slices on top of the coriander to seal them. Coat with olive oil. Season with salt and pepper. Bake until done.
Step 3/5
Heat oil in a pan. Fry the eggs in the hot oil. Add cooked bell peppers and onions onto one of the eggs. Add the other fried egg on top to make a sandwich. Remove from oil and sprinkle with chives. Season with salt and pepper.
Step 4/5
Take some mashed red beans and place in the middle of the baked potato slices. Add some shredded cheddar and place the eggs on top. Use the parchment paper to help roll everything together. It will resemble a burrito.
Step 5/5
Remove the eggs from the mini cups and place directly on top of the bacon rings. Add the burrito to the middle of the rice dish. Cover the burrito with salsa verde and jalapeños. Enjoy!