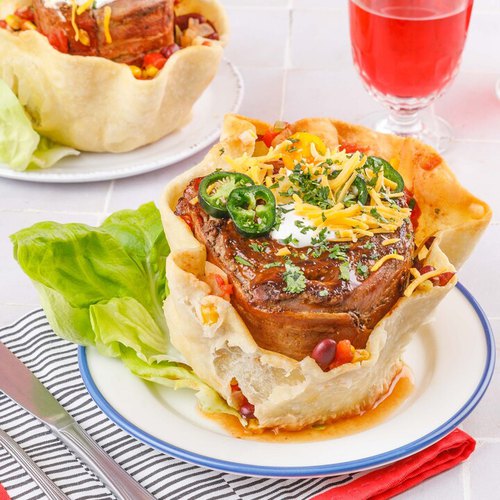 Hot Stuff Chilli Con Carne
Hot Stuff Chilli Con Carne! Get silly with chilly in the kitchen today 😅🌶️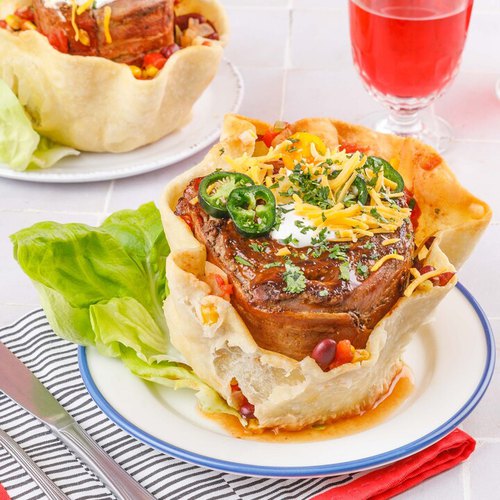 ---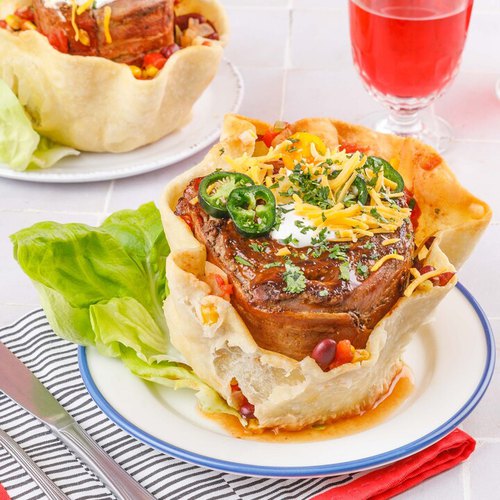 ---
Total time: 1 hour
Cook time: 45 minutes, Rest time: 15 minutes
Ingredients for 4 people
3/4 cup of flour
1/4 tsp of salt
1/4 tsp of baking powder
1/4 cup of warm water
1 l of vegetable oil
8 slices of bacon
1 cup of veggie chilli
Sour cream
2 oz of shredded cheddar
Jalapeños
Cilantro
12 cherry tomatoes
1 lb of ground beef
2 tbsp of chefclub bbq spice mix
12 leaves of lettuce
---
Tools
Rolling pin or metal rod
parchment paper
---
Step 1/5
Heat the vegetable oil to 375°F. In a bowl combine and mix the flour, salt and baking powder. Make a well in the center of the dry ingredients and add the oil and water. Stir well and and form a ball. Turn the dough out onto a lightly floured work surface and knead for 1-2 minutes until the dough is nice and smooth. Divide into 8 equal portions. Turn each piece to coat with flour. Flatten the balls with the palm of your hand. Cover the rounds of dough with a clean kitchen towel and allow to rest for at least 15 minutes.
Step 2/5
Roll each dough piece into a circle, about 6-7 inches in diameter ( do not stack the uncooked tortillas on top of each other or they will stick together). Place a can in the shallow hot oil. Drape a tortilla over the can, then ladle the oil carefully over the tortilla until it is golden and crisp. Remove the cooked tortilla from the oil with your tongs onto a paper towel-lined baking sheet and let it slightly cool. Gently remove the cooked tortilla from the can and flip it over, letting the excess oil drain. Repeat with the remaining tortillas.
Step 3/5
Heat the veggie chili in a small sauce pan and bring to a simmer. Keep warm as you complete the next steps. In a mixing bowl, add the ground beef and BBQ spices to taste. Place half of the ground beef between two sheets of parchment paper and then roll the beef out until it is very thin. Remove the top sheet of paper, then cut the beef into two wide strips horizontally. Roll each up into a spiral. Wrap 2 pieces of par-cooked bacon around the edge of each. Repeat with the remaining beef and bacon.
Step 4/5
Heat the pan over medium-high heat. Add the bacon wrapped beef to the pan and cook on all sides. Remove the bacon-wrapped beef from the pan and allow to rest.
Step 5/5
Add the veggie chili to the bottom of each tortilla bowl, then top with a bacon-wrapped beef patty. Top with sour cream, shredded cheddar, jalapeños and cilantro to taste. Add other ingredients such as salsa or guacamole if desired. Serve with lettuce and sliced cherry tomatoes. Enjoy!