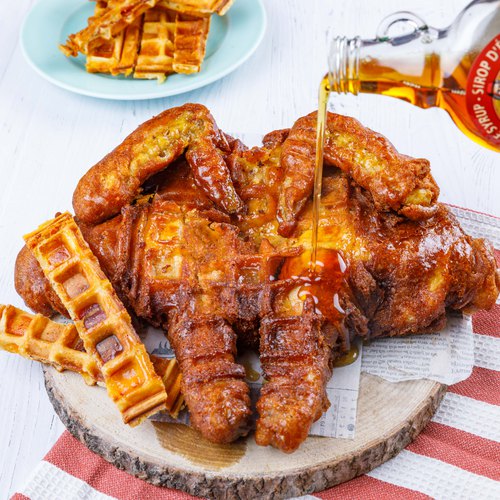 Waffle Chicken
Waffle Chicken! This recipe is finger-lick'-good 🍗 :)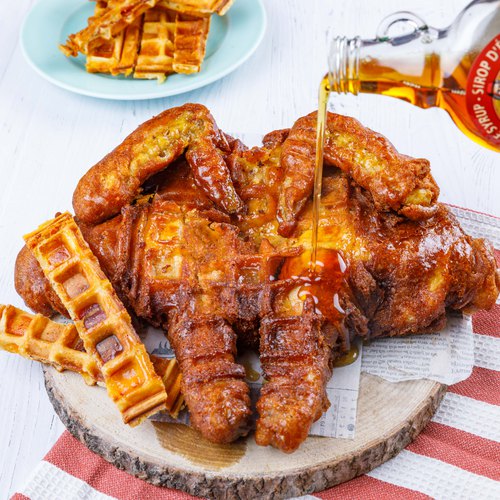 ---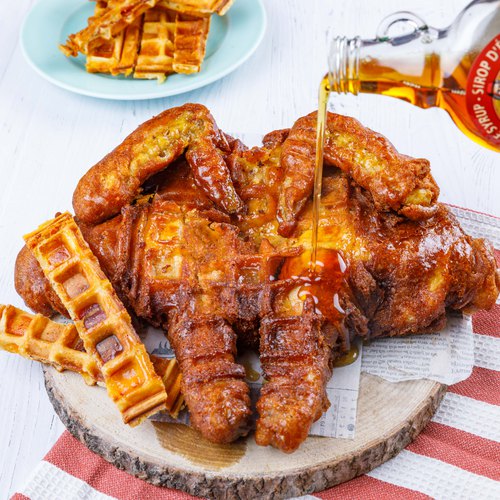 ---
Total time: 1 hour
Cook time: 1 hour
Ingredients for 3 people
1 whole chicken
3 cups of flour
1 tbsp of garlic powder
Paprika
2 tsp of salt
3 eggs
1.3 cups of beer
4 tsp of baking powder
1 1/2 cups of milk
0.3 cup of butter
Cheddar
---
Step 1/4
Take a whole chicken and remove the bones leaving the thigh bones and wings. Season with salt, pepper and seasonings.
Step 2/4
In a bowl combie the flour, butter, salt, sugar and eggs. Mix until combined. Dip the chicken into the batter to cover completely. Fry the chicken at in 350°F. Remove the griddles of the waffle maker and place them in the hot oil to heat them.
Step 3/4
Place one griddle on the bottom and place the chicken on top of it. Place the second griddle on top of the chicken. Take the whole chicken with the waffle griddles and fry it using tongs. Carefully place all 3 parts together in the hot oil.
Step 4/4
Take some additional waffle batter and place in the waffle machine. Add cheese and bacon slices and more batter on top. Allow to cook fully. Arrange waffled chicken and waffle fries on a plate. Drizzle with maple syrup and enjoy!