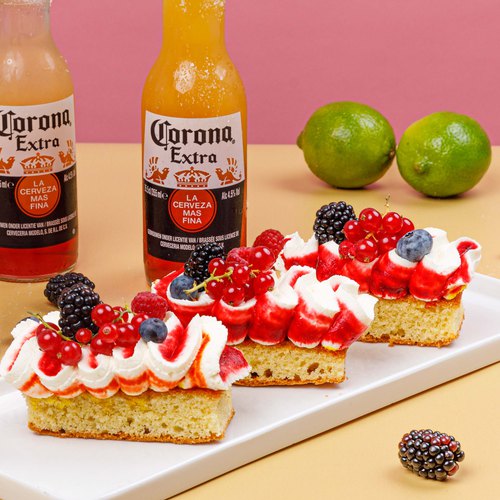 Corona Sunrise & Fruit Cake
Corona Sunrise & Fruit Cake! A refreshing and seasonal recipe ☀️😋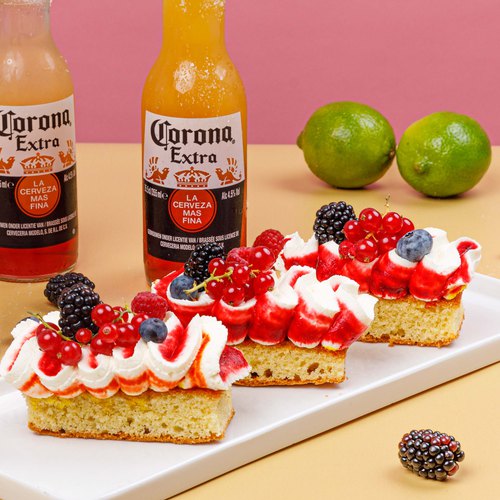 ---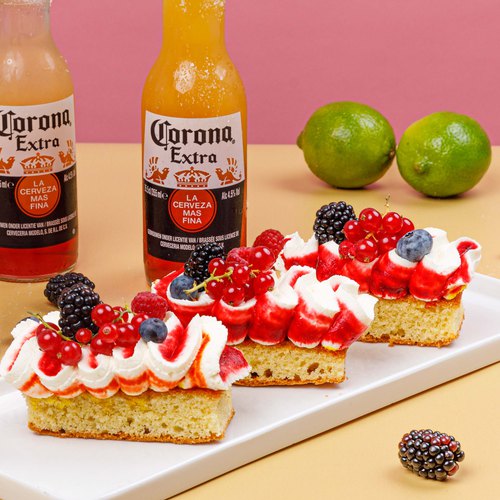 ---
Total time: 25 minutes
Prep time: 5 minutes, Cook time: 20 minutes
Ingredients for 5 people
1 3/4 cups of flour
1 1/2 cups of sugar
6 egg
1 1/4 cups of butter
3 tsp of baking powder
4/5 cup of heavy cream
3 1/2 oz of mascarpone
2 tbsp of powdered sugar
3 beer
3 orange juice box
1 tbsp of grenadine syrup
4 tbsp of tequila
1 lime
Red fruits
Salt
Yellow food coloring
Orange food coloring
Red food coloring
---
Tools
Piping bag
---
Step 1/4
Make the sponge cake by whipping the soft butter and sugar together. Add the eggs and continue beating. Add flour and baking powder. Pour into the empty orange juice boxes and cook at 320°F for 20 minutes. Unmold and cut to have perfect rectangles.
Step 2/4
Make the cocktail by emptying half of the beer into a saucepan. Reserve half of the beer in the bottles. Add orange juice, tequila and grenadine syrup into the beer bottles. In the saucepan add some red fruits, tequila and some orange juice. Allow to reduce.
Step 3/4
Soak the cakes with the cocktail syrup. Whip the heavy cream, mascarpone and powdered sugar together. Place in a piping bag and add 3 dots of each food coloring. Pipe on the cakes and decorate with red fruits.
Step 4/4
Rub lime around the mouth of the bottles and sprinkle with salt. Add a slice of lime for decoration. Serve with the cakes and enjoy!