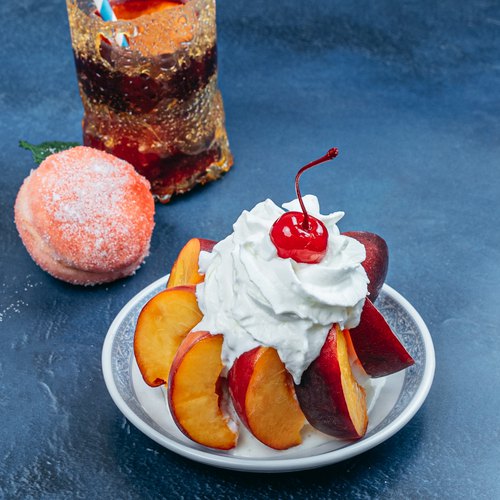 Bellini Cocktail & Ice Cream
Bellini Cocktail & Ice Cream! Life is peaches and cream with this recipe 😘🍑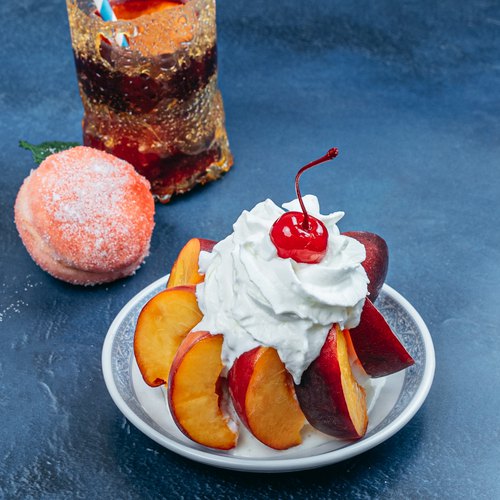 ---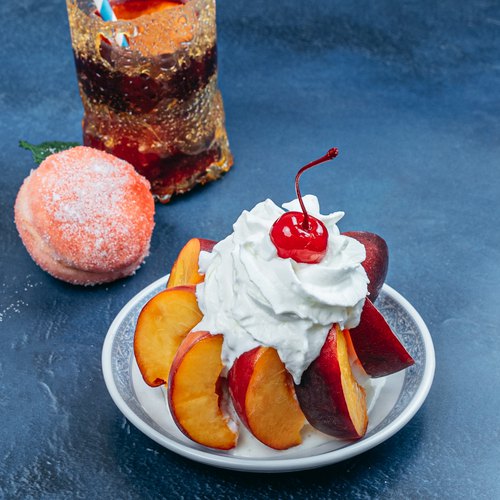 ---
Total time: 3 hours 35 minutes
Prep time: 10 minutes, Cook time: 15 minutes, Rest time: 3 hours 10 minutes
Ingredients for 6 people
4 cups of flour
1 tbsp of baking powder
3 egg
1 cup of sugar
1 1/2 cups of milk
8 tbsp of butter
Lemon zest
1/2 cup of maraschino cherries juice
6 mint leaves
6 egg yolks
1/2 cup of heavy cream
3 gelatin sheets
1 vanilla bean
12 peaches
Prosecco
---
Tools
parchment paper
Piping bag
Straw
Shot glass
Cling wrap
---
Step 1/4
In a large heavy-bottomed saucepan, bring milk and lemon zest to a simmer over medium heat. Meanwhile, in a large bowl, whisk together egg yolks and sugar until thick and pale yellow; add flour and whisk until combined. Remove lemon zest from milk and discard. Slowly whisk hot milk into egg mixture. Return mixture to saucepan and place over medium heat; cook, stirring constantly, until cream thickens and begins to boil. Transfer pastry cream to a large bowl; cover with cling wrap, pressing down on the surface to prevent a skin from forming. Allow to cool completely.
Step 2/4
In a large bowl, whisk together flour and baking powder. Whisk eggs in another large bowl. Add sugar and whisk to combine. Whisk in milk, butter, and lemon zest until smooth. Gradually add flour mixture, mixing with a fork, until dough is smooth and stiff. Let dough rest for 5 minutes.Preheat oven to 350°F. Line two baking sheets with nonstick baking mats. Using a lightly mounded tablespoon of dough, roll the dough firmly between your palms to make a smooth round ball. Repeat the process. Place balls on baking sheets (there should be 24). Flatten tops slightly with your fingertips and bake 15 minutes. Set aside.
Step 3/4
While the cookies are still warm, use a small, sharp knife to cut a circle about the size of a quarter on the bottom (flat) side of each cookie. Slightly hollow out the circle. Place maraschino juice in a small bowl. Set aside. Fill a shallow bowl with sugar. Fill each hollowed-out cookie with 1 teaspoon of filling. Sandwich two cookies together. Using a pastry brush, brush with colored liquor and roll in sugar to coat. Transfer to a large airtight container and repeat process with remaining cookies, liqueur and sugar. Cover container and transfer to refrigerator. Allow to chill overnight.
Step 4/4
Cook sugar in a shallow pan until amber color. Cut parchment paper to the size of 2 standing peaches. Dip paper in hot sugar and immediately roll the peaches to adhere the sugar to peaches. Allow to cool. Blend the cut peaches in a blender. Place in cups and add prosecco. Serve with cookies and enjoy!