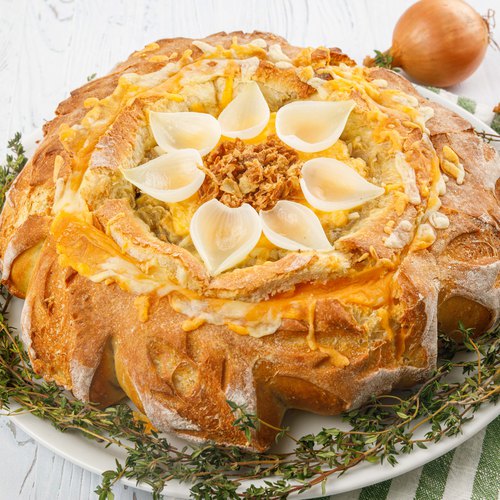 Say Cheese & Onion Dip
Say Cheese & Onion Dip! A delicious recipe sure to make you smile 😁🧀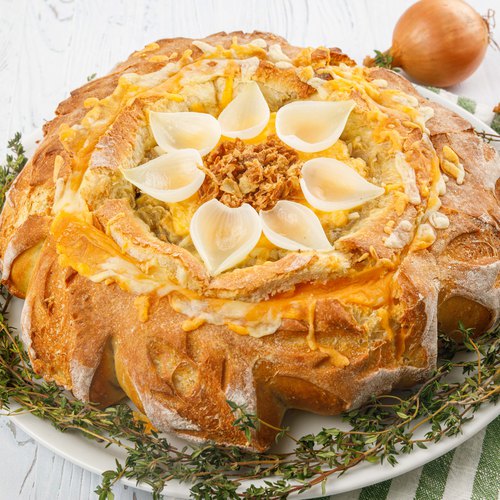 ---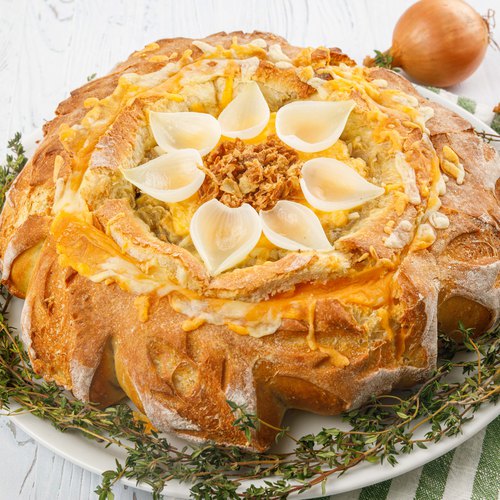 ---
Total time: 3 hours
Cook time: 1 hour , Rest time: 2 hours
Ingredients for 6 people
7 1/4 cups of flour
2 cups of hot water
5 tbsp of yeast
1 tbsp of salt
2 lbs of onions
2 tbsp of butter
4 cups of chicken stock
2 cups of cheddar
2 cups of gruyere cheese
1 beer
1/2 cup of fried onions
---
Tools
Baking sheets
---
Step 1/4
Prepare the bread by kneading together all of the ingredients, bread flour, dried yeast, water, and salt. Once the dough is smooth and elastic, place in a lightly greased bowl and cover with a clean kitchen towel. Allow the dough to rise until doubled in size. Punch down the dough and form it into a ball. Place the dough onto a baking sheet and press a small bowl into the middle of the bread dough. Cover and allow to rise for 20-30 minutes.
Step 2/4
Once the dough has risen and is slightly puffy to the touch, sprinkle the dough with flour and use a pair of scissors to make cuts into the dough all the way around the exterior creating a wreath shape. Go back with a cutter and add details to each of the "leaves." Place in the oven at 425˚F for 20 minutes then lower the temperature to 400˚F for another 20 minutes. Allow the bread to cool completely once it has finished baking.
Step 3/4
In a large pot, melt the butter and toss in the sliced onions. Cook until golden and caramelized. Season with salt and pepper. Deglaze the pan, by pouring the entire bottle of beer onto the onions. Stir to combine and scrape up any of the golden bits cooked on the bottom of the pan. Let the liquide reduce by half. Pour in the chicken broth and allow the soup to simmer for 10-15 minutes.
Step 4/4
Make an cut into the bread between the outer and interior part. Fill the hole with grated cheese. Brush with melted butter and place in the oven at 350˚F for 10 minutes to melt the cheese. Pour the soup into the center of the bread bowl and sprinkle with additional cheese. Place under the broiler for a few moments. Once the bread is out of the oven, add the onion flower decoration and top with crispy fried onions. Enjoy!