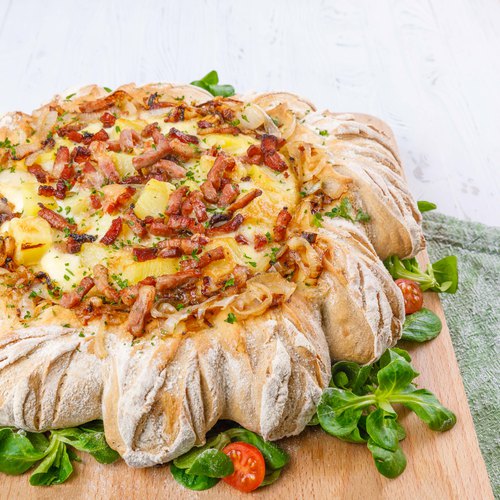 French Potato & Cheese Casserole
French Potato & Cheese Casserole! A classic and shareable dish you will love 🧀😍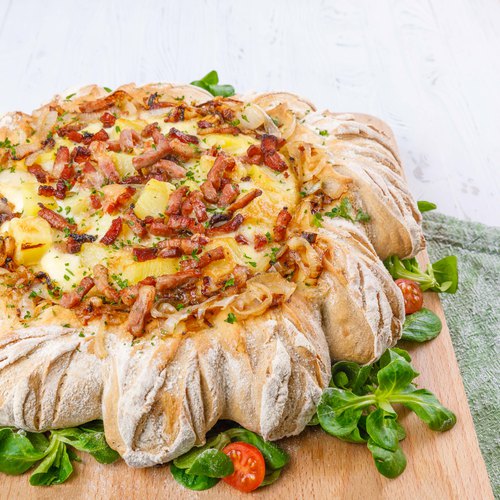 ---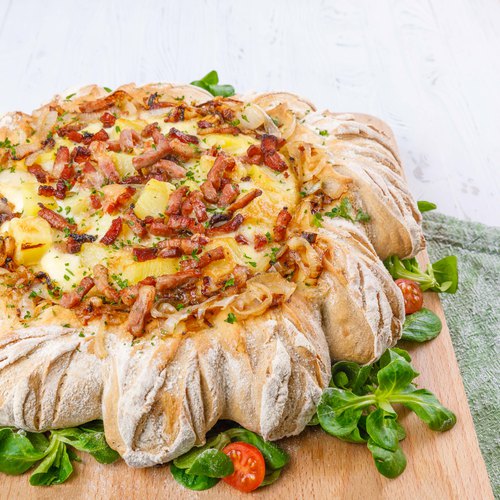 ---
Total time: 3 hours 45 minutes
Prep time: 50 minutes, Cook time: 55 minutes, Rest time: 2 hours
Ingredients for 5 people
2 1/2 cups of cake flour
3 cups of spelt flour
1 tbsp of salt
5 tbsp of yeast
2 cups of warm water
1 wheel reblochon cheese
3 potatoes
1 package of bacon bits
3 onions
Olive oil
1 tsp of sugar
Parsley
---
Tools
Scissors
Pizza cutter
Melon baller
Parchement paper
---
Step 1/3
Mix the flours, form a well in the middle. Add the warm water, salt and yeast. Knead the dough and form a ball. Let it rise for 2 hours in the fridge under a clean cloth. Turn out the dough and place it on a sheet of parchment paper. Sprinkle it with flour and place a bowl filled with white beans on top. Cut the outline of the dough using a scissor to create a pattern of ears. Using a cutter draw ears of wheat on the ears of dough. Bake for 40 minutes at 390°F.
Step 2/3
Cook the bacon in a hot pan. Peel and cook the potatoes in boiling water then cut them into pieces. Cut the upper crust of the reblocho. Form balls of reblochon using a melon baller and place the balls of reblochon in a bowl. Add the potatoes and the bacon bits. Mix and place the mixture inside the reblochon.
Step 3/3
Lightly cook the onions in boiling water to be able to peel them more easily. Peel and cut the onions into pieces then cook the onions in pan with the sugar. Cook for a few minutes until caramelized. Remove the bread from the oven. Remove the bowl in the centre. Cut out a circle around the space in the centre. Place the reblochon cheese in the center and the onions in the incision around it. Bake for 15 minutes at 350°F. Sprinkle with parsley and enjoy!