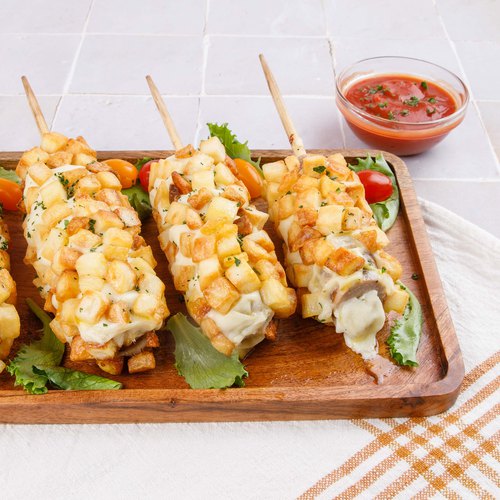 Sausage & Mashed Potato Skewers
Sausage & Mashed Potato Skewers! A traditional dish to eat with your hands 🤗🍢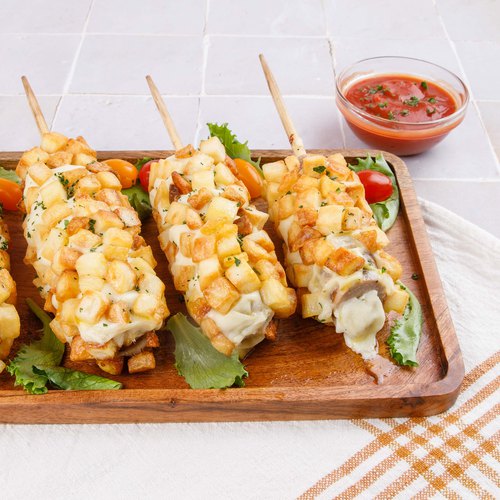 ---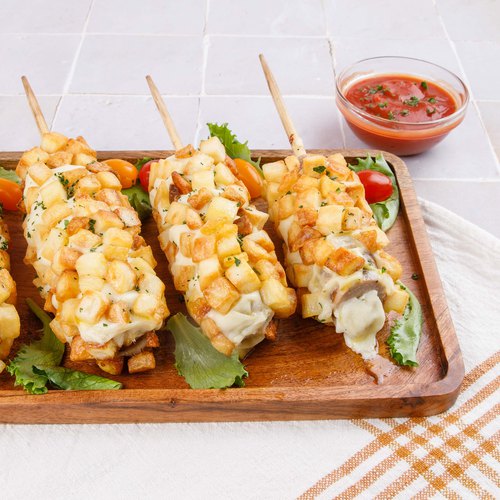 ---
Total time: 1 hour 15 minutes
Prep time: 45 minutes, Cook time: 30 minutes
Ingredients for 5 people
0.9 lb of aligot
1.1 lbs of potatoes
1 oz of comté cheese
5 sausages
1 tbsp of butter
1 pinch of salt
Mixed herbs
1 garlic
3 tbsp of olive oil
Chefclub vegetable seasoning
1 pinch of parsley
Brown sugar
Cherry tomatoes
---
Tools
Skewers
---
Step 1/3
Cut the potatoes into cubes, cook them in a hot pan and set them aside. Cut the comté into slices. Insert a skewer into each sausage to create a hole, remove the skewer and garnish with Comté, then insert the skewers again. Cook the sausages on a buttered grill, season them with a pinch of salt and pepper, add the herbs during cooking. Wrap the sausage skewers with the aligot, then sprinkle them with the cooked potatoes and set them aside.
Step 2/3
Boil water, place the cherry tomatoes in boiling water for a few minutes, plunge them into cold water to stop the cooking and remove the skin from the cherry tomatoes. Place them on a baking sheet with the garlic, drizzle with olive oil, sprinkle them with Chefclub vegetable spices and brown sugar. Bake for 20 minutes at 350°F.
Step 3/3
Crush the cherry tomatoes and the garlic. Grind to obtain a sauce, place next to the plate of skewers, sprinkle with parsley and enjoy!