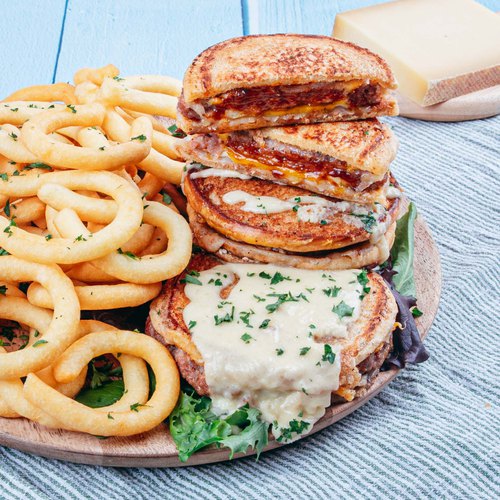 Swiss Grilled Cheese
Swiss Grilled Cheese! With a side of fries 😉🥪🍟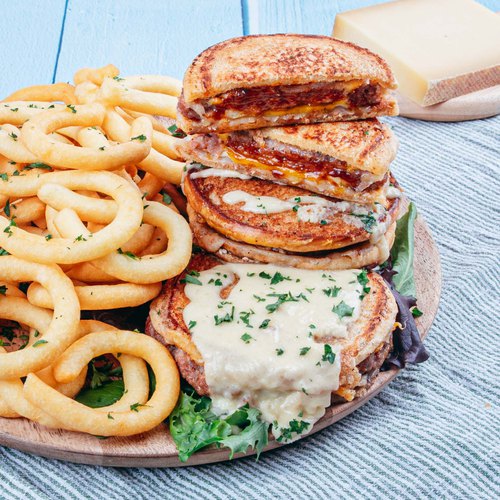 ---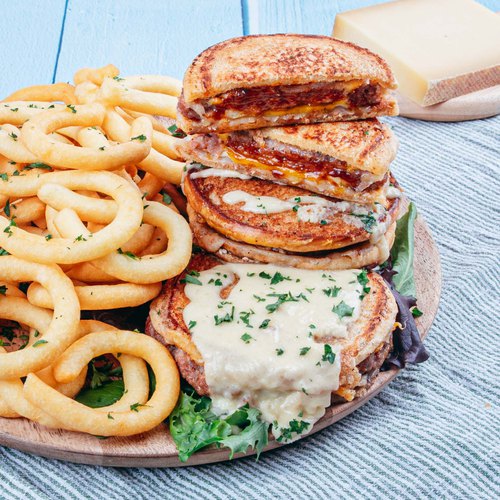 ---
Total time: 1 hour 3 minutes
Prep time: 20 minutes, Cook time: 40 minutes, Rest time: 3 minutes
Ingredients for 3 people
3/4 lb of ground sausage
4 egg
Chefclub ground beef seasoning
2 tbsp of butter
6 slices of etivaz cheese
3 burger buns
1.1 lbs of potatoes
3 tbsp of cornstarch
Parsley
Salt & pepper
Garlic
Salad
Frying oil
---
Step 1/3
Place the sausage meat in a bowl, an egg, the Chefclub ground beef seasoning, salt and pepper, then mix everything. Form 3 balls with the sausage meat, flatten them to obtain patties. Place the patties on the hot plancha with butter, then cut the center out each patty with a glass, remove the circle and place on the side.
Step 2/3
Break 1 egg and place it in the center of the patty circle. Add 2 slices of Etivaz cheese to the plancha, place the burger bun on each slice and flip everything over with a spatula. Place the small circle of patty on the egg and flip the patty to cook it on the other side. Assemble the bread and the patty before pressing with the spatula. Repeat the process to obtain 3 sandwiches.
Step 3/3
Peel and cook the potatoes in a pan of boiling water, drain and mash them. Add 2 eggs and the cornstarch, then mix everything to obtain a puree. Place in a piping bag. Cut the end, form circles of mash in a pan of hot oil and allow to fry. Drain and place on a plate, then season with salt, grated garlic, chopped parsley and pepper. Place the sandwiches on a plate with salad. Serve and enjoy!