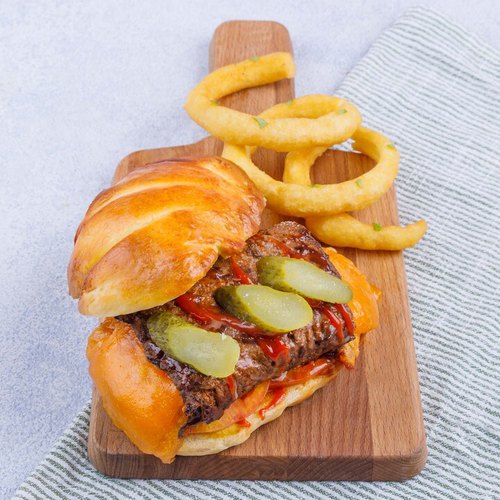 Hungry-Man Hoagie & Spiral Fries
Hungry-Man Hoagie & Spiral Fries! Frynally the perfect combo you've been waiting for 🤩🥪🍟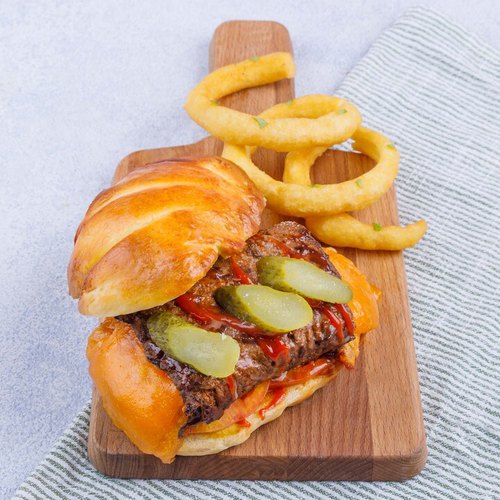 ---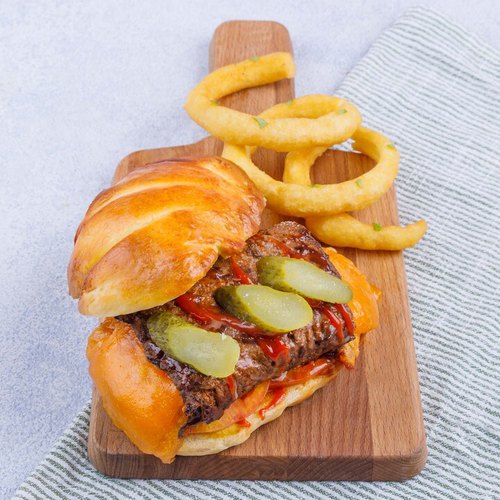 ---
Total time: 1 hour
Cook time: 1 hour
Ingredients for 4 people
1 1/2 l of vegetable oil
2 lbs of potato puree
Salt & pepper
3/4 lb of ground beef
4 hoagie buns
4 sliced pickles
2 tomatoes
Ketchup & mayonnaise
Mustard
---
Tools
Thermometer
Ziplock bag
Scissors
Parchment sheet
---
Step 1/3
Heat the frying oil to 350°F. Preheat the oven to 225°F. Season the mashed potatoes with salt and/or pepper to taste. Add to the ziplock bag or pastry bag. Cover the baking sheet with paper towels. Once the oil is hot, cut a corner of the bag and pipe a spiral of mashed potatoes around a rolling pin. Carefully lower the rolling pin into the hot oil and cook for 3-5 minutes or until golden. Gently remove the fried potato spiral onto the paper towels to drain excess oil. Repeat with the remaining mashed potatoes. Remove the paper towels and keep the potato spirals warm in the oven while you complete the next steps.
Step 2/3
Combine the ground beef in a mixing bowl and season with salt and/or pepper to taste. Roll out the ground beef onto a sheet of parchment paper with your rolling pin until it is very thin. Cut the sheet in half horizontally. Make 4 rectangles for each burger with your scissors. Place one slice of cheddar on each rectangle, then place the other half of uncut ground beef over the cheddar. Cut the meat into four cheddar-filled rectangles. Heat the griddle or plancha on medium-high heat. Cook the burgers to your desired temperature. Flip to cut other side.
Step 3/3
Add the cooked cheeseburgers to the buns and top with your favorite toppings. Serve with the potato spirals. Enjoy!