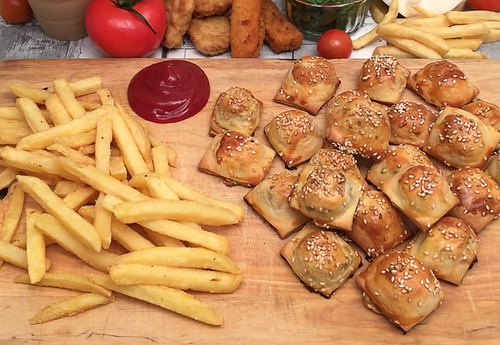 Mini Burgers
All your favorite burgers, but mini...what's not to love?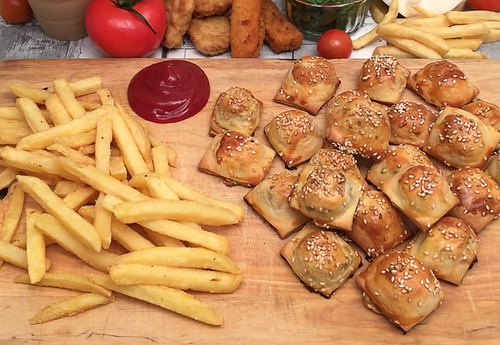 ---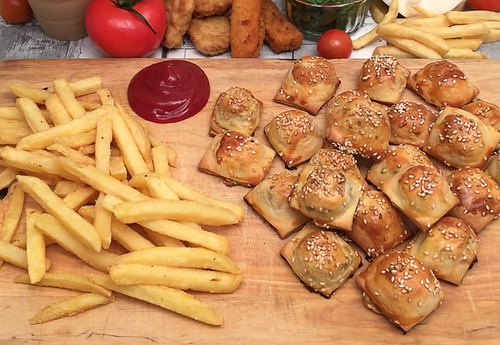 ---
Ingredients for 4 people
2 pizza doughs
1/4 lb of ground beef
3 small fish sticks
2 cheddar cheese slices
1 monterey jack slice
6 chicken nuggets
sesame seeds
3 cherry tomatoes
2 pickles
1/2 onion
2 egg yolks
thousand island dressing
tartar sauce
mayonnaise
mustard
ketchup
---
Step 1/3
Spread out a pizza dough on top of an ice cube tray and press the dough into each cube.
Step 2/3
In one row of the tray, place a bit of ground beef, a piece of cheddar, a slice of pickle, ketchup, and mustard. In a second row, place ground beef, cheddar, a half tomato, and Thousand Island dressing. In a third row, place a pieces of cooked chicken nugget, a piece of Monterey Jack cheese, and mayonnaise. Finish with a fourth row of fish sticks, chopped onion, and tartar sauce.
Step 3/3
Cover the tray with a second pizza dough, press to seal, and trim any extra dough. Remove from the ice cue tray and place on a lined sheet pan. Paint with an egg wash and sprinkle with sesame seeds. Cut between each cube and bake for 15 minutes at 350 °F. Enjoy hot with fries and favorite sauce.