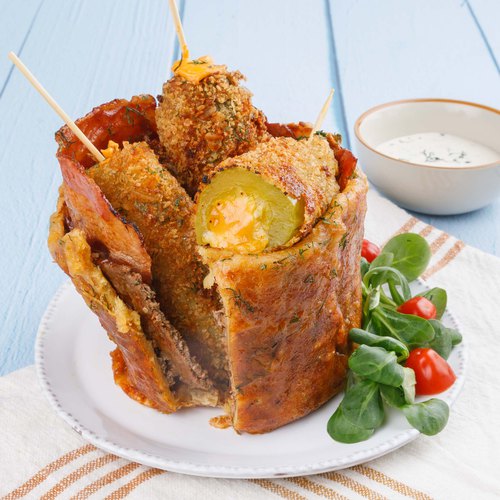 Crispy Pickle & Cheeseburger Roll
Crispy Pickle & Cheeseburger Roll! This dish will pickle your fancy 😉🥒🍔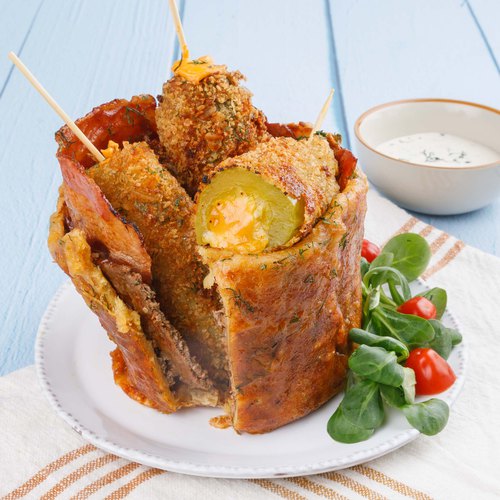 ---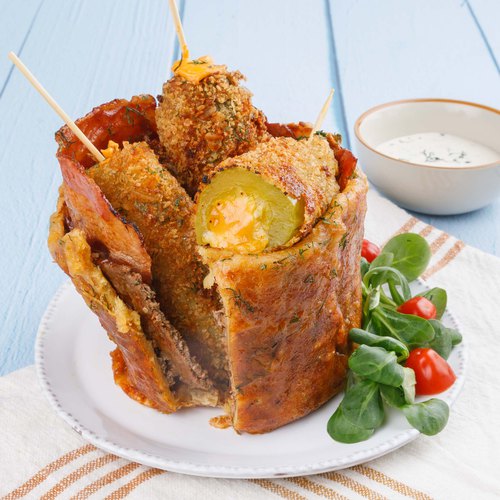 ---
Total time: 1 hour
Cook time: 30 minutes, Rest time: 30 minutes
Ingredients for 4 people
4 pickles
8 oz of cheddar
3/4 cup of flour
1/4 package of ranch seasoning
1 tsp of baking powder
1 cup of milk
1 cup of ruffles sour cream & onion chips
1 cup of panko
2 l of frying oil
1/2 lb of ground beef
Salt & pepper
4 hamburger buns
6 slices of bacon
2 oz of mozzarella
2 tbsp of dill
Ranch dressing
---
Tools
Apple corer
Skewers
Whisk
parchment paper
Rolling pin or metal rod
Glass
Scissors
---
Step 1/5
Remove the center of each pickle with the apple corer. Form a column of cheddar with the apple corer and add it to the cored-out center of a pickle. Repeat with the remaining pickles. Dry the exterior of the pickles with paper towels. Insert a bamboo skewer through the cheddar in each pickle. Set the remaining cheddar aside for later use.
Step 2/5
In one mixing bowl, combine the flour, ranch seasoning, baking powder, milk and egg. Whisk well until the ingredients are fully combined. In the other mixing bowl, combine the crushed potato chips and the panko. One by one, dip each pickle into the wet batter, let the excess drip off, then roll the pickle in the chip-panko mixture to coat. Set the coated pickle on a baking sheet covered in parchment paper. Repeat with the remaining pickles, then place them in the refrigerator to cool and set for at least 30 minutes.
Step 3/5
Heat the frying oil in a large pot to 350°F. Heat the griddle to medium-high heat. Grate the remaining cheddar into fine strips, then combine it with the mozzarella and 1 tablespoon of the chopped dill. Place the hamburger buns in a line, alternating between a top and a bottom bun, with the edges overlapping. Roll the buns flat with your rolling pin so that the buns are sealed together. Add the ground beef to a mixing bowl, then season with salt and pepper to taste. Mix the beef with a spoon to incorporate the seasoning. Remove the beef from the mixing bowl onto a sheet of parchment paper. Place another sheet of parchment paper on top, then roll the beef out flat and thin with your rolling pin to about the same length as the strip of buns. Cut the beef into 2 thin strips, then sear both sides of the strips on the griddle. Remove from the griddle.
Step 4/5
Once the frying oil reaches 350°F, slowly lower 2 pickles at a time into the oil and fry until crisp and golden (about 4-5 minutes). Remove the fried pickles from the oil and let the excess oil drain on paper towels or a wire cooling rack. Repeat with the other 2 pickles.
Step 5/5
Add the cheese-dill mixture onto the griddle in a strip a little wider than the bun strip. Once air bubbles start to form on the cheese, add the buns on top, then follow with a strip of beef, add the cooked bacon, then top with the other strip of beef. Add the drinking glass to one end and slowly roll the layers up onto the glass using a rubber spatula to keep everything together. Remove from the griddle and add the cheeseburger roll to a serving plate. Place the fried pickles in the center of the cheeseburger roll. Garnish with the remaining chopped dill and serve with ranch dressing for dipping the pickles. Enjoy!