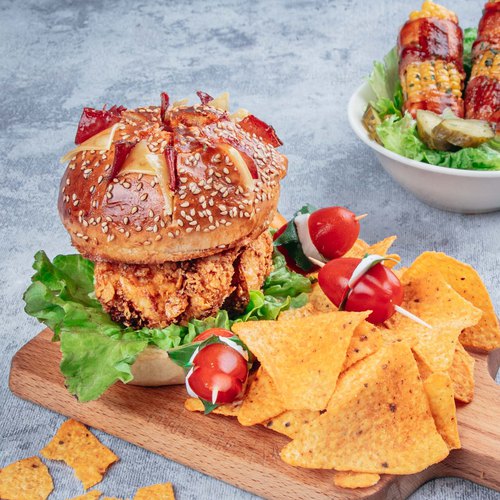 Crispy Dorito Chicken Burger
Crispy Dorito Chicken Burger! With a side of corn & bacon skewers 😄🍗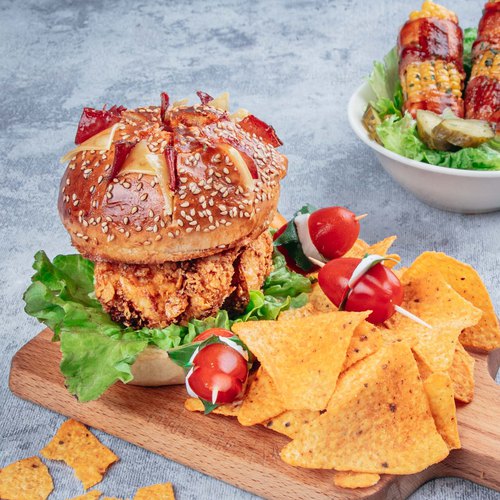 ---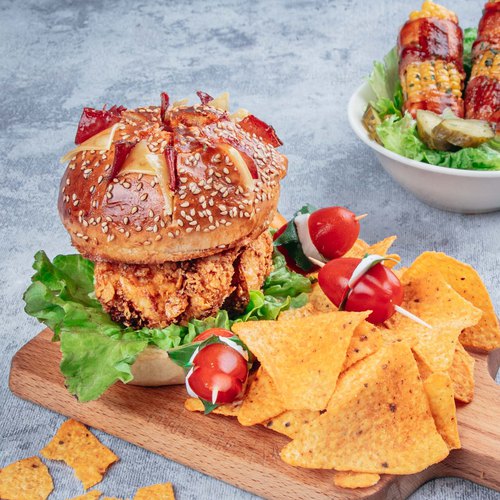 ---
Total time: 45 minutes
Prep time: 5 minutes, Cook time: 35 minutes, Rest time: 5 minutes
Ingredients for 4 people
4 chicken breasts
1 doritos bag
4 corn on the cobs
8 slices of bacon
4 hamburger buns
4 slices of salami
4 slices of cheddar
Ranch dressing
4 potatoes
Frying oil
---
Tools
Rolling pin or metal rod
Skewers
Toothpicks
---
Step 1/4
Lay out two skewers on a cutting board horizontally leaving 2 inches in between them. Place piece of chicken breast on top of your skewers and cut strips through the chicken ( do not cut all the way through). Roll the chicken breast in a circular shape. Close the chicken wheel with two toothpicks and set aside. Repeat the process for the remaining chicken. Place in freezer for 5 minutes.
Step 2/4
Take one bag of Doritos and lay bag flat on counter. Crush by rolling over the bag with a rolling pin several times. Set aside in a bowl. Dip the chicken wheels in ranch and coat with doritos crumbs. Fry in hot oil at 375°F until golden brown. Set aside.
Step 3/4
Cut buns in half (lengthwise). Cut through the top of the bun gently (but not all the way through so the x doesn't break the bun). Fill in the spaces with pieces of cheddar and salami (cut in triangles). Bake 5-10 minutes at 150°F.
Step 4/4
Slice potato into thin rectangular shape. Bake in oven at 250°F for 5-7 minutes.Poke through with skewer. Set aside. Cut the sides of boiled corn and make a sandwich by placing the potato in the middle of two corn slices. Lay down two strips of bacon on the counter horizontally and add your corn potato skewer. Tightly roll the bacon around the sandwich skewer until it has two strips of firmly wrapped bacon. Place on grill and cook for 3-4 mins on each side. Coat with BBQ sauce and fresh herbs. Place chicken in hamburger buns and serve with skewers. Enjoy!