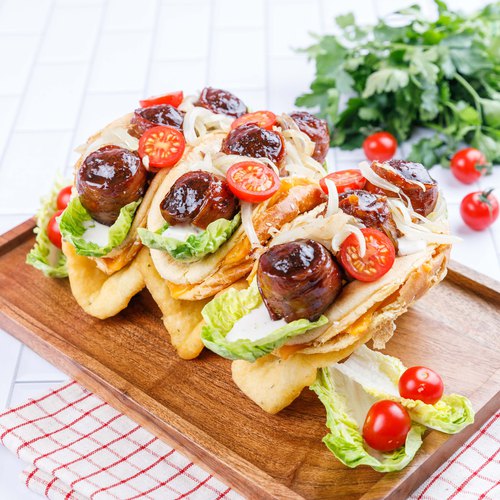 All-in-one Tacos
All-in-one Tacos! Another spectacolar dish just for you 😋🌮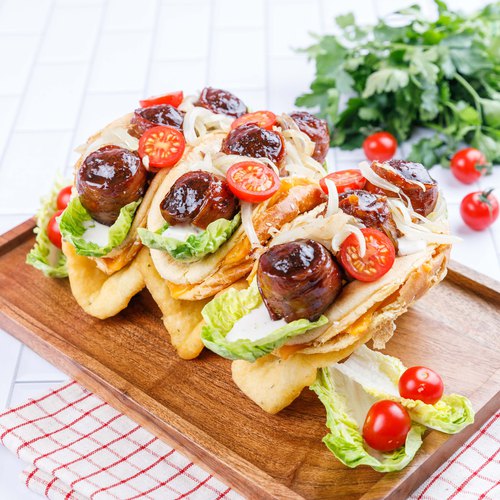 ---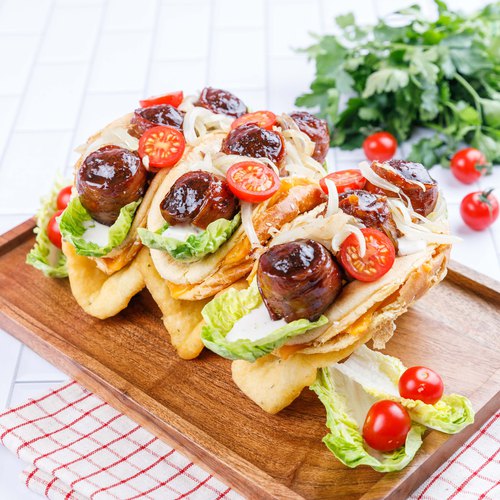 ---
Total time: 1 hour 30 minutes
Cook time: 30 minutes, Rest time: 1 hour
Ingredients for 4 people
1 lb of mashed potatoes
2 eggs, beaten
1/4 cup of cornstarch
2 l of frying oil
8 burger buns
16 slices of cheddar
1 package of ranch seasoning
12 oz of ground beef
24 slices of bacon
8 leaves of lettuce
Ranch dressing
1 onion, sautéed
12 cherry tomatoes
Salt & pepper
---
Tools
parchment paper
Taco holding stand
Ladle
Rolling pin or metal rod
---
Step 1/5
In a mixing bowl, combine the mashed potatoes, eggs, cornstarch, and ranch seasoning. Mix until very smooth and firm. Spread mashed potatoes onto two strips of parchment paper cut to fit the taco stands. Place the strips onto the taco stands, then place the stands in the freezer for 30 minutes to an hour.
Step 2/5
Preheat the oven to 350°F. Heat the frying oil to 375°F. Place the ground beef in a mixing bowl and season with salt and pepper to taste. Form the ground beef into 24 tightly packed meatballs, then wrap each meatball with a slice of bacon. Place the meatballs on a parchment covered baking sheet and bake for about 25 minutes.
Step 3/5
Remove the mashed potatoes from the freezer and, one at a time, fry them in the oil, using the ladle to cover all sides. Fry until golden and crisp, then carefully remove the taco stand from the oil. Allow it to cool and remove the parchment paper. Return the potatoes to the oil to crisp the other side. Set aside.
Step 4/5
Roll each burger bun (tops and bottoms) flat with the rolling pin. Place two slices of cheddar between each bun. Place the buns on the taco stands on a baking sheet. Bake until the cheese is melted and the buns are nicely toasted, about 5-7 minutes.
Step 5/5
Place a leaf of lettuce on each bun, then add ranch dressing to taste. Place three bacon-covered meatballs in each bun shell, then add sauteed onions and tomatoes. Enjoy!