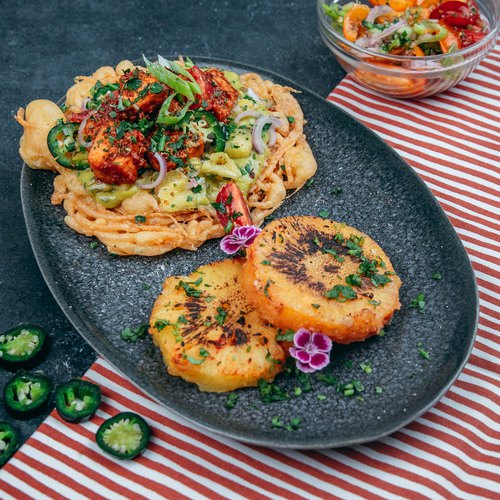 State Fair Al Pastor Tacos
State Fair Al Pastor Tacos! With crispy funnel cake 🤩🌮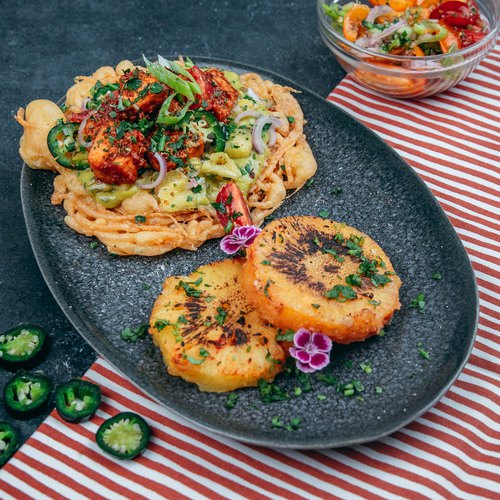 ---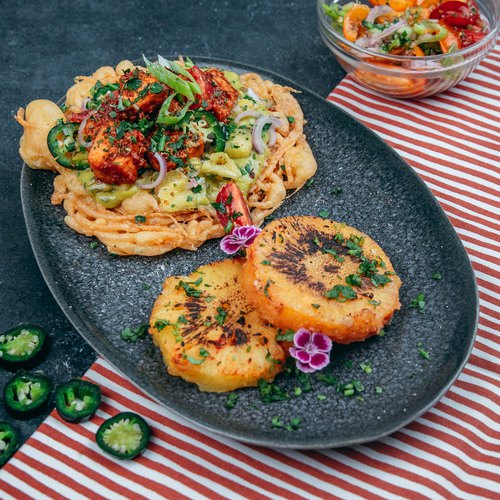 ---
Total time: 1 hour
Cook time: 1 hour
Ingredients for 3 people
2 cups of flour
1 tsp of baking powder
2 1/2 tsp of salt
1 cup of milk
2 egg
Oil
1 tbsp of taco seasoning
6 guajillo chili peppers
1 onion
4 cloves garlic
1 cup of pineapple
2 tbsp of lime juice
2 tsp of oregano
1 tsp of cumin
1 tsp of annatto powder
2 lbs of pork loin
---
Step 1/3
In a bowl whisk the flour, ½ tsp of salt and baking powder. Add in the eggs and milk. Mix until you obtain a smooth batter. Slowly drizzle a thin stream of batter in a zig-zag pattern into the hot oil. Fry on each side until golden brown, then remove to a paper towel-lined plate. Set aside.
Step 2/3
Place the dried chiles in a large bowl and cover with hot water. Allow to soak for 20 minutes. Add the softened chiles, onion, garlic, pineapple, lime juice, oregano, salt, cumin, and annatto powder to a blender and blend until smooth.
Step 3/3
Place the pork in a container, pour the marinade and rub it all over the pork. Cover the container and allow the pork to marinate in the fridge for 1 hour. Take the pork out of the fridge and preheat the oven to 425°F. Place a baking rack over a roasting pan and lay the pork on the rack. Roast in the oven for 45 to 50 minutes. Take the pork out of the oven and let rest for 10 minutes. Slice and add on top of your funnel cakes. Add your favorite toppings. Serve and enjoy!