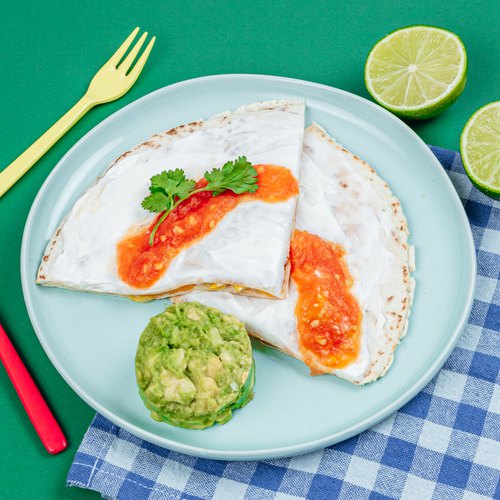 Mexican quesadillas
With homemade guacamole and tomato sauce!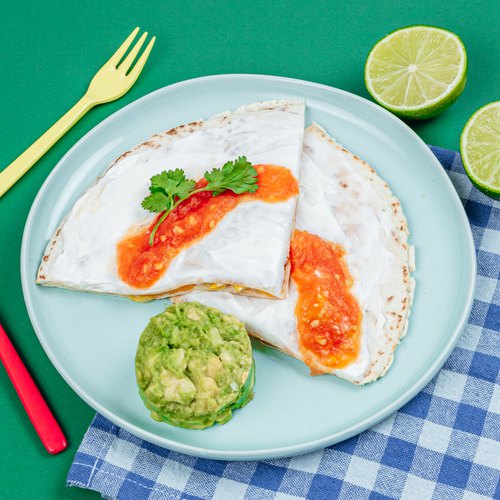 ---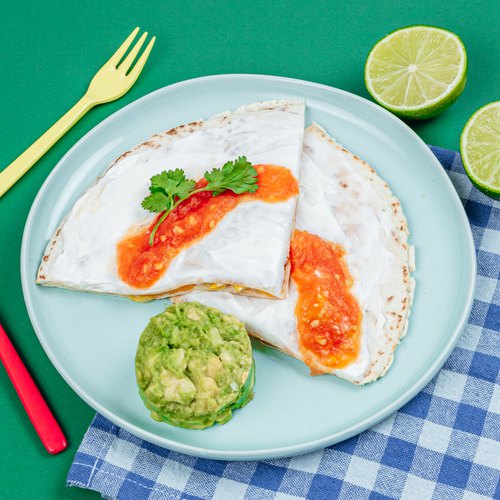 ---
Total time: 41 minutes
Prep time: 20 minutes, Cook time: 21 minutes
Ingredients for 4 people
1 tomato
1 avocado
1 lime
2 tortillas
0.3 cup of gratted cheddar cheese
0.3 cup of grated emmental (or other cheese of your choice)
1/4 cup of corn
2 tbsp of crème fraîche
cilantro
salt
---
Tools
Clingwrap
---
Step 1/4
Cut the tomatoes into quarters and put them into the chef cup. Cover the cup in plastic wrap and heat in the microwave for 5 minutes. Take the cup out of the microwave and remove the plastic wrap (careful, it will be very hot!). Add half a chick of salt and mix well.
Step 2/4
Score the flesh of the avocado half and use a spoon to remove the flesh from the skin. Mix the avocado with 1 chick of salt and the juice of half a lime, then mash together (with the pig cup).
Step 3/4
Place 1 cat of grated cheddar cheese and 1 cat of grated Emmental (or other cheese) on 2 of the tortillas (1 cat of each cheese on each tortilla). Add 1 mouse of corn to each tortilla, then cover with the 2 remaining tortillas. Fry each quesadilla in a frying pan for 5 minutes on one side, pressing down to ensure the cheese melts, then turn the quesadilla over and cook for 3 minutes on the other side.
Step 4/4
Spread 1 hen of crème fraîche onto each quesadilla and cut into quarters. Serve 2 slices with 1 hen of your tomato sauce, 1 mouse of guacamole, lime slices, and cilantro. Enjoy!