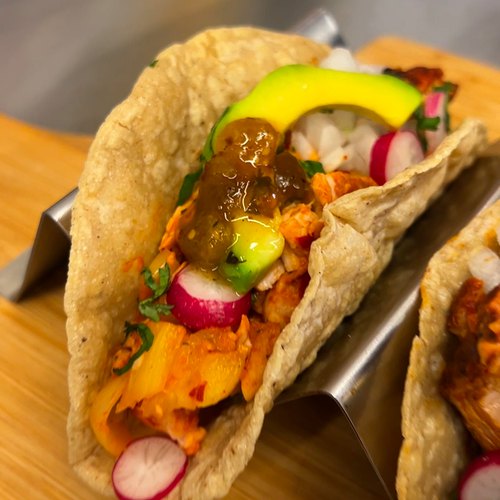 Pineapple & Pork Tacos
Pineapple & Pork Tacos! This dish is definitely not boaring 🤩🍍🌮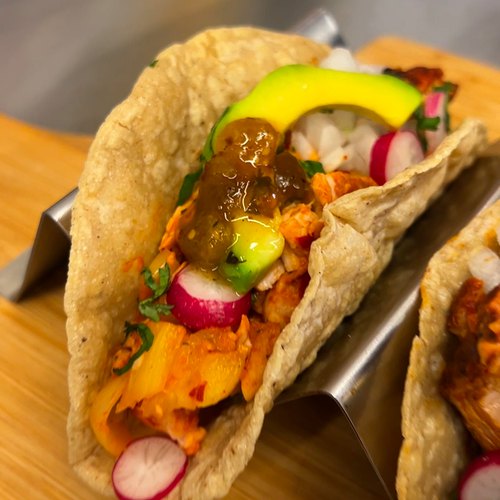 ---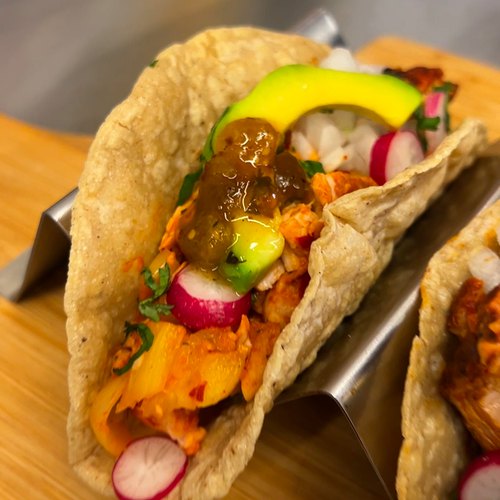 ---
Total time: 4 hours 40 minutes
Prep time: 5 minutes, Cook time: 35 minutes, Rest time: 4 hours
Ingredients for 4 people
Tortillas
Oil
Pork
Al pastor sauce
Limes
Lime juice
Onions
Pineapple
Pineapple juice
Radishes
Cilantro
Avocado
---
Step 1/4
Fry tortillas in hot oil until golden brown. Remove from oil and fold over to create the taco shape.
Step 2/4
Cut a pocket inside of the pork and fill with Al Pastor marinade. Coat the outside of the pork, drizzle with lime juice, pineapple juice, and add diced onions. Place in the fridge to marinate for 4-6 hours.
Step 3/4
Wrap the pineapple leaves in foil. Remove the center from the bottom and pour in the Al Pastor marinade. Close with half an onion and secure with skewers. Place the pork around the pineapple and sear on all sides. Baste with additional sauce, add slices of pineapple and lime. Bake in the oven until done.
Step 4/4
Once cooked, slice the pork and pineapple. Garnish the tortillas with the pork, pineapple, cilantro, radishes, onions, avocado, salsa, and lime juice. Serve and enjoy!