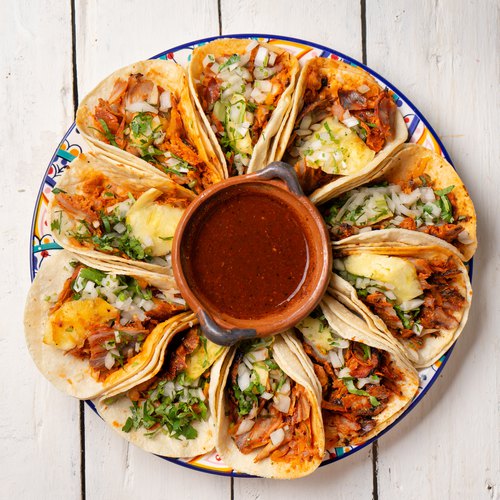 Al Pastor Tacos at Home
Al Pastor Tacos at Home! No roasting spit required! 🌮🍍🔥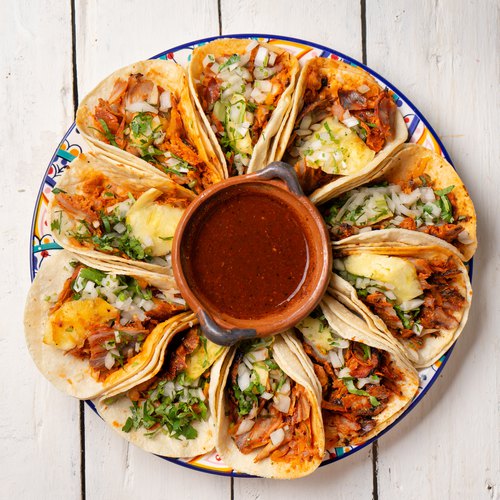 ---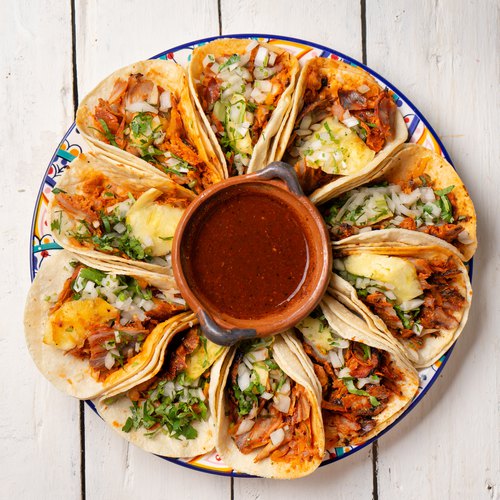 ---
Total time: 3 hours
Cook time: 3 hours
Ingredients for 8 people
2 lbs of pork shoulder
2 pineapples, divided
150 g of chipotle peppers
salt & pepper
2 cups of orange juice
4 cloves garlic
---
Tools
Kitchen skewers, about 10
Kitchen twine
High-sided baking sheet
---
Step 1/3
Make marinade, heat oil in pan add chipotle peppers, 1 cup chopped pineapple, salt, smashed garlic cloves, and orange juice. Simmer until liquid has reduced by half, stirring often. Blend for 2-3 minutes until smooth. Pour over pork and let marinate in fridge for 4 hours to overnight. The longer the better.
Step 2/3
Cut the bottom and top off the second pineapple, slice the flesh in the center of the pineapple into 1-inch thick rounds. Flip the bottom part upside down on a parchment-lined, high-sided baking sheet. Stick multiple kebab sticks into the center and use kitchen twine to hold them together. Stack marinated pork and pineapple slices onto the skewers, repeating until all the meat is used. Place the top of the pineapple on the skewers. And use additional skewers to hold up the pineapple for baking. Bake at 350 °F for 1 hour or until pork is cooked through - this will depend some on the thickness of your meat.
Step 3/3
When the pineapple tower is out of the oven slice the meat off and put meat into taco shells garnishing with red onions, cilantro, and lime. Add hot sauce as desired! Enjoy!