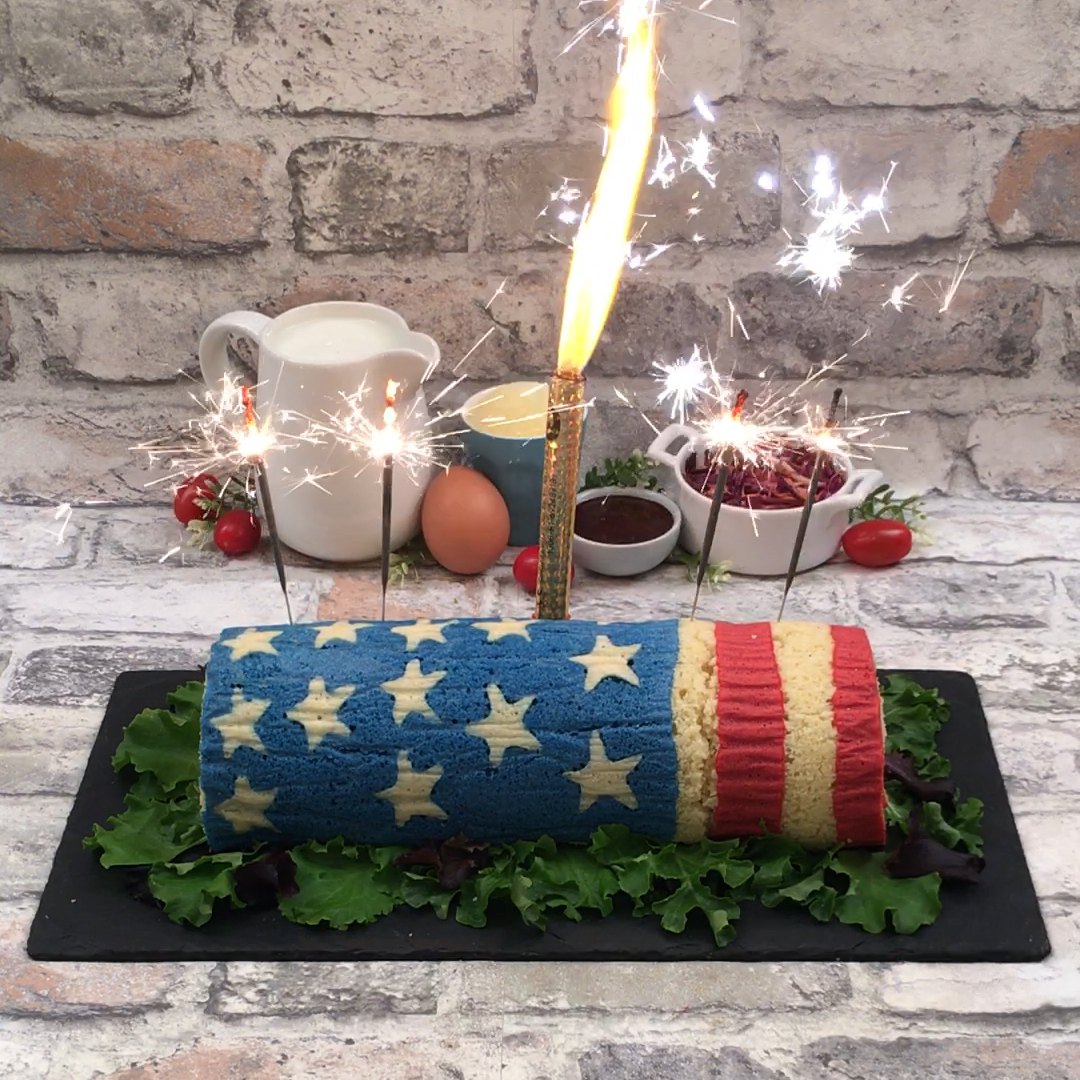 Pulled Pork & Cornbread Roll
Pulled Pork & Cornbread Roll! A fresh way to celebrate! 🇺🇸
Made by you!
Ingredients
1 lb pork shoulder
1 tbsp garlic powder
1 tbsp cumin
1 tsp salt
1 tbsp pepper
Barbecue sauce
2 boxes Jiffy corn muffin mix
2 eggs
2/3 cup milk
6 egg whites, whipped until stiff
Tools
Jelly roll pan or baking sheet
Parchment paper
Clean kitchen towel
1. Mix the pepper, salt, cumin and garlic powder together to make a rub for the pork shoulder. Rub on the meat then place the seasoned meat in a slow cooker, cook on low for 8 hours.
2. In a bowl, mix Jiffy with 2 eggs and milk. Fold into a large bowl of 6 stiff egg whites, just until mixed being careful not to deflate the egg whites. Divide in 3, placing small amounts of the batter into bowls and dying one blue and one red. Do not add food coloring to the rest. Place red and blue cornbread mix into piping bags.
3. On a parchment-lined baking sheet, pipe out the stars and stripes of the American flag with the red and white batter. Bake the stars and stripes for 2 minutes ate 350 °F. Make the blue rectangle over the stars and bake for 2 minutes at 350 °F. Pour the remaining white batter over ever thing, smooth it out and bake for 5 minutes at 350 °F
4. When the corn bread comes out of the oven place a damp, clean kitchen towel over the top and roll. Set aside while it cools. Shred pulled pork and add barbecue sauce. Then unwrap the cornbread, remove the kitchen towel and spread pulled pork and coleslaw over top. Roll like a jelly roll cake. Cut slices and enjoy.
Similar recipes from Chefclub