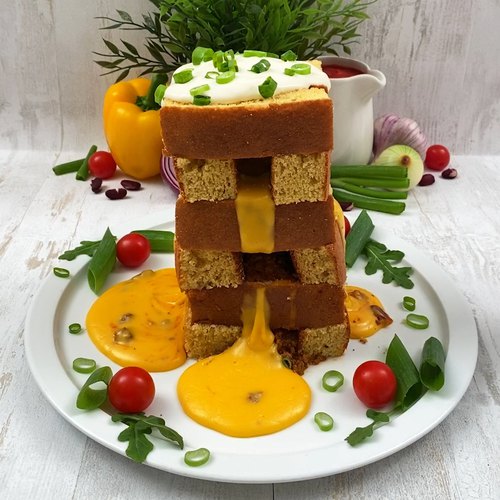 Chili Cheese Corn Bread
Who says you can't play with your food? 🎯😋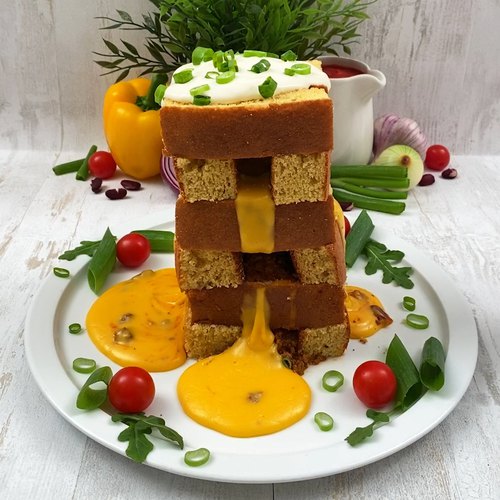 ---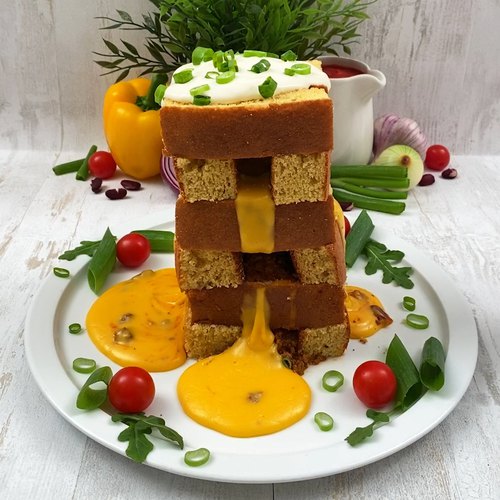 ---
Total time: 1 hour 30 minutes
Ingredients for 6 people
1 cup of flour
1 cup of corn meal
2/3 cup of sugar
1 egg
1 cup of milk
1/3 cup of melted butter
4 tsp of baking powder
1 tsp of salt
1 lb of ground beef
bell peppers
1/2 onion, chopped
olive oil
1/2 cup of kidney beans
2 cloves garlic
3 tsp of chili powder
1 tsp of cumin
1 tbsp of oregano
salt & pepper, to taste
melted cheddar
sour cream, for garnish
scallions, for garnish
---
Tools
High-sided cookie sheet
Parchment paper
---
Step 1/3
To make cornbread, mix together flour, corn meal, sugar, baking powder, and salt. Then add the egg, milk, and melted butter. Mix until just combined then pour into a parchment-lined, high-sided cookie tray and bake for 25 minutes at 400 °F. Remove from oven and let cool.
Step 2/3
Make the chili by browning ground beef in a little olive oil, then add onions, bell peppers, kidney beans, and tomato sauce. Let bubble and add garlic, chili powder, cumin, oregano, salt and pepper. Let cook until veggies are soft and beef is cooked.
Step 3/3
Cut the corn bread into equal-sized pieces and stack like a Jenga game, leaving a whole in the center. Save one piece of corn bread, then pour the chili into the center and top with melted cheese. It will ooze out of the holes a little. Cover the top with the final piece of corn bread, and garnish with sour cream and scallions. Grab pieces of corn bread and dip in cheese and chili — don't be scared to play with this appetizer! Enjoy!