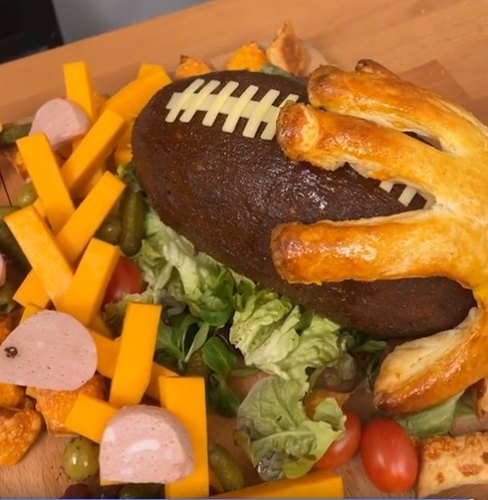 Super Bowl Party Platter
Super Bowl Party Platter! Time to kick off the football season with this shareable dish 😁🏈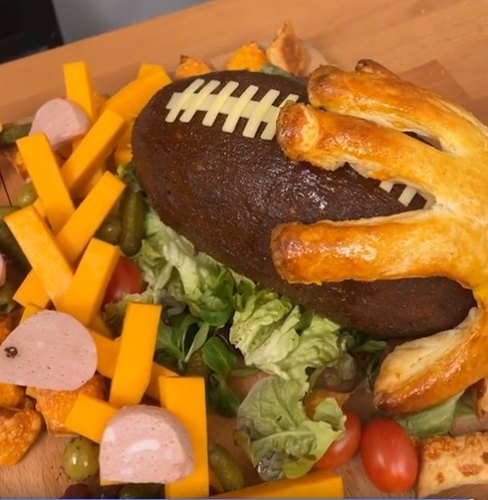 ---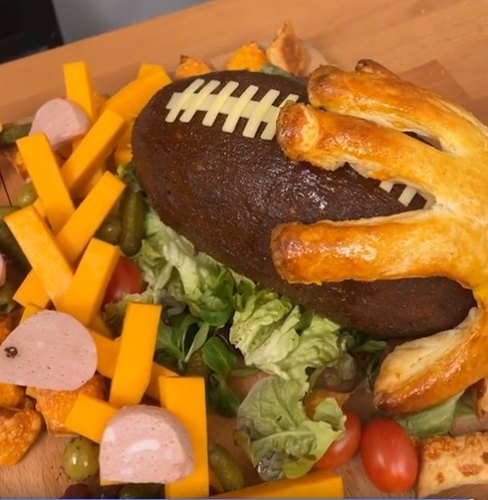 ---
Total time: 50 minutes
Prep time: 50 minutes
Ingredients for 3 people
2 mortadella
3 1/2 oz of 4 spice seasoning
1/2 cup of ketchup
1 jalapeño
1/2 cup of cream cheese
2 slices of gouda cheese
1 sheet of puff pastry
1/4 cup of cheddar
7 oz of bacon
1/2 cup of bbq sauce
---
Tools
Peeler
Kitchen twine
---
Step 1/4
Put your hand on a sheet of puff pastry and cut out a mold 2 times. Insert pieces of cheddar inside the puff pastry in order to form the fingers. Place one 'hand' over the other and enclose. Freeze for 1 hour and then cook at 350°F for 20 minutes.
Step 2/4
Take the remaining dough and cut into squares. Cover each square with some cheese. Bake at 350°F for 10 minutes.
Step 3/4
Take the two mortadella halves and sharpen the ends with a peeler. Empty out the centers. Stuff with cream cheese, jalapeño and mortadella. Put the two halves of mortadella together and tie together with kitchen twine.
Step 4/4
Coat the mortadella with ketchup and 4 spice seasoning. Bake at 350°F for 10 minutes. Decorate with pieces of cheese to resemble a football. Serve on a plate with the puff pastry hand and cheese squares. Enjoy!