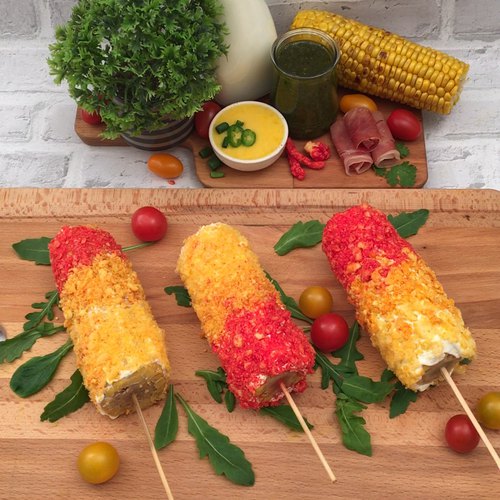 10 Wild Ways to Eat Corn on the Cob
This side dish just became the main event! 🌽🌽🌽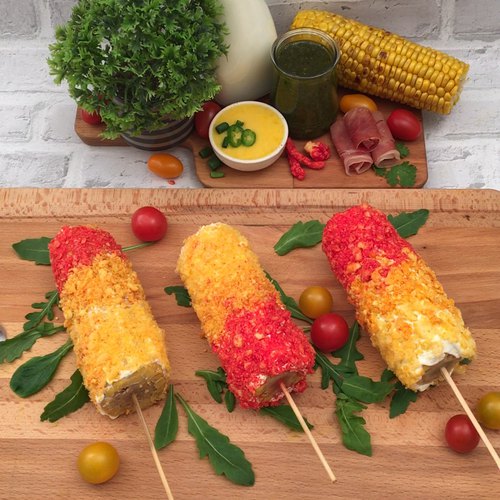 ---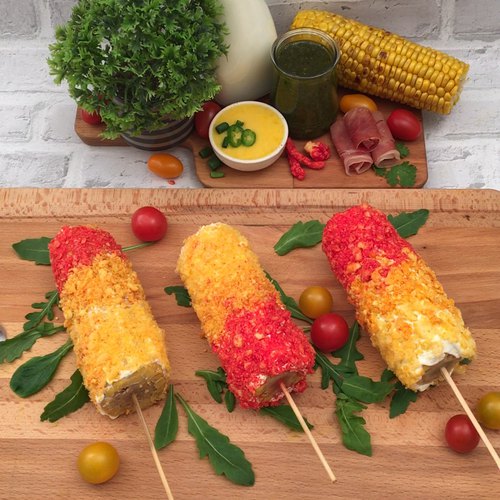 ---
Ingredients for 4 people
corn on the cob
fluff
graham cracker crumbs
prosciutto
corn dog batter
mustard
ketchup
whiskey
barbecue sauce
crema fresca
flamin' hot cheetos
jalapeño cheetos
cheeto puffs
cinnamon sugar
melted chocolate
peanut sauce
peanuts
sriracha hot sauce
spring roll wrapper
cream cheese
blueberry jam
puff pastry
egg wash
melted butter
caramel
pesto
grated mozzarella
sun-dried tomatoes
cheese sauce or queso
salsa or pico de gallo
---
Step 1/10
S'mores Corn: Roll cooked corn in Fluff, then roll in graham cracker crumbs and drizzel with chocolate. Enjoy.
Step 2/10
Corn Dog Corn: Wrap grilled corn in prosciutto and dip into corn dog batter. Fry until golden. Dip in ketchup and mustard.
Step 3/10
Tennessee BBQ Corn: Soak corn in whiskey. Grill or carefully light on fire to flambée the corn. Roll in your favorite barbecue sauce.
Step 4/10
Flamin' Hot Ombre Corn: Crush Flamin' Hot Cheetos, Jalapeño Cheetos, and regular cheetos. Place them in rows on a large plate to create the ombre effect. Rolled grilled corn in crema fresca (or mayonnaise) and then roll in the cheetos. Enjoy.
Step 5/10
Churro Corn: Cover corn in melted butter and roll in cinnamon sugar. Wrap the corn in puff pastry and re-roll in the cinnamon sugar. Place on baking sheet and then bake for 10 minutes at 350 °F. Serve with melted chocolate dipping sauce.
Step 6/10
Spring Roll Corn: Roll grilled corn in peanut sauce, then roll in crushed peanuts and scallions. Quickly wet spring roll wrappers and then roll the corn in the rice paper. Serve with Sriracha.
Step 7/10
Blueberry Pie Corn: On a plate, make 2 rows of each cream cheese and blueberry jam. Roll corn in the two so that stripes form on the corn. Wrap strips of puff pastry around the corn so that you can still see the cream cheese and jam. Place on a sheet pan, and bake for 10 minutes at 350 °F.
Step 8/10
Caramel Corn: Cover grilled corn in melted butter. Using caramel sauce, cover the corn. Let it harden then eat.
Step 9/10
Caprese Corn: Roll grilled corn in pesto. On a plate, make a mix of sun-dried tomatoes and grated mozzarella. Roll corn in the cheese mix.
Step 10/10
Nacho Corn: Roll grilled corn in your favorite cheese sauce. Then roll in salsa. Enjoy!