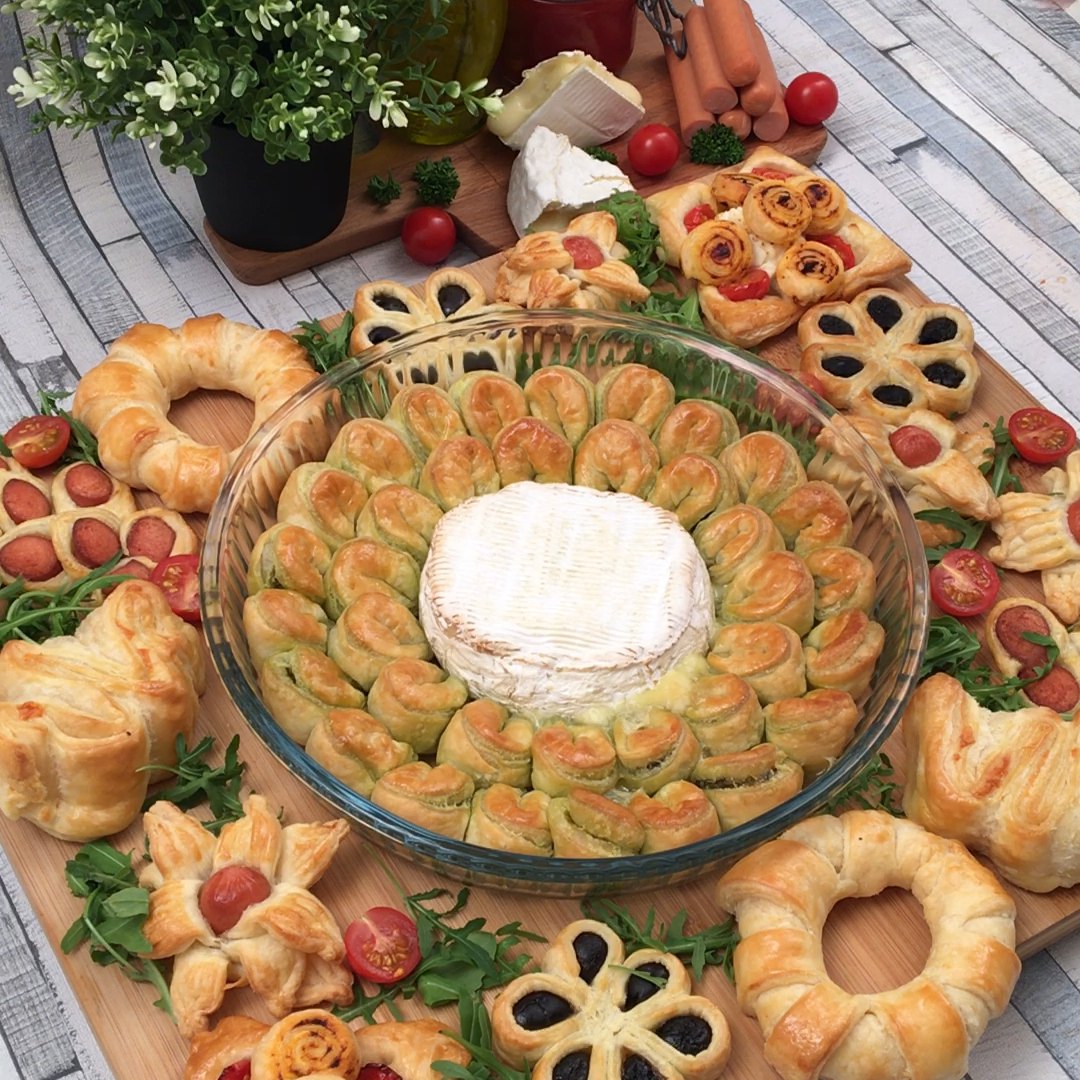 Puff Pastry Wonderland
Endless ideas for appetizers and snacks. 🤩
Made by you!
Ingredients
3 round puff pastries
Pesto
1 wheel camembert
6 rectangular puff pastries
Mozzarella, grated
Ham, diced
8 cocktail sausages
Cheddar, grated
4 hot dogs
36 black olives
Tomato sauce
8 cherry tomato
4 tsp pricotta cheese
Tools
1 glass
1 pie pan
1 baking tray
Parchment paper
1. Cut 40 discs out of the round puff pastry, add a bit of pesto to each, fold them in half and seal the edges together. Fold the dumplings in half again and arrange them around the camembert, placed in the center of the pie pan.
2. Cut 1 rectangular puff pastry into 4. Add grated mozzarella cheese and diced ham to one half of each of the rectangles. Roll these halves up and cut the remaining half into 10 strips. Finish rolling the rectangle over the strips and then bend the logs into circles.
3. Cut 1 rectangular puff pastry into 4 widthwise. Mark 9 notches at regular intervals, face to face, on each side of the resulting strips. Press the tines of a fork into each strip and pinch the ends into points. Place 2 cocktail sausages in the middle of one end of each strip and roll them on themselves. Cut through the center of the rolls, between the cocktail sausages, fold over the strips to form flowers.
4. Cut 8 strips into the width of a rectangular puff pastry and sprinkle half of them with grated cheddar cheese. Cover the cheese with the remaining strips and seal the edges. Fold each strip into an accordion shape, place it on its side and press lightly to collapse.
5. Cut a rectangular puff pastry into 4 and roll each part around a hot dog. Cut angled slices into each roll without separating them completely. Spread the slices backwards, alternating left and right.
6. Cut a puff pastry in half lengthwise and then cut each half into 9 strips. Form rings with each slice and place 2 black olives in each ring. Assemble the rings in stacks of 3 and pinch them in the center to form flowers.
7. Cut a puff pastry in half lengthwise and then cut each half into 3 strips. Spread tomato sauce on 2 of them and roll them into logs. Cut a cross in the center of the remaining 4 rectangles and fold the points of the cross over the sides. Fold the corners of the rectangles inwards from the underneath so that they meet in the center of the cross and press them together. Cut the logs into 20 disks. Place 4 cherry tomato halves at the corners of the rectangles, a teaspoon of ricotta cheese in the center, and 5 of the rolled disks on top.
8. Place all the pastries on the baking sheet lined with parchment paper and bake for 20 minutes at 350 °F. Remove the top of the camembert rind and enjoy the puff pastries by dipping them in the melted cheese.
Similar recipes from Chefclub