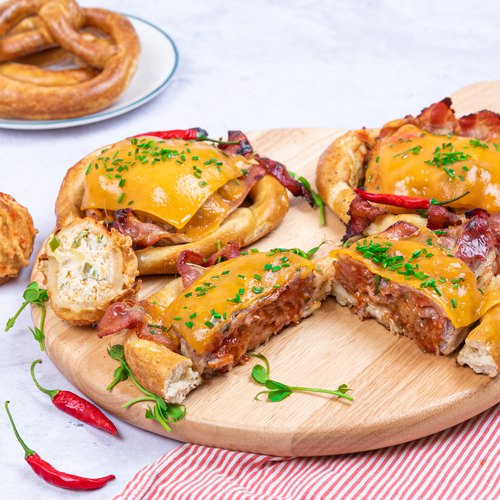 Pretzel Brunch Platter
Pretzel Brunch Platter! With fried cheese balls 🥨🧀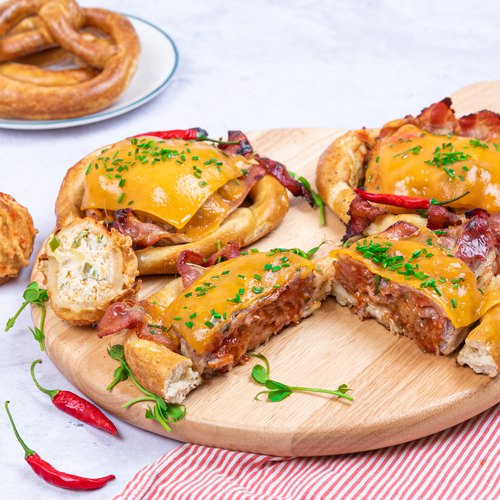 ---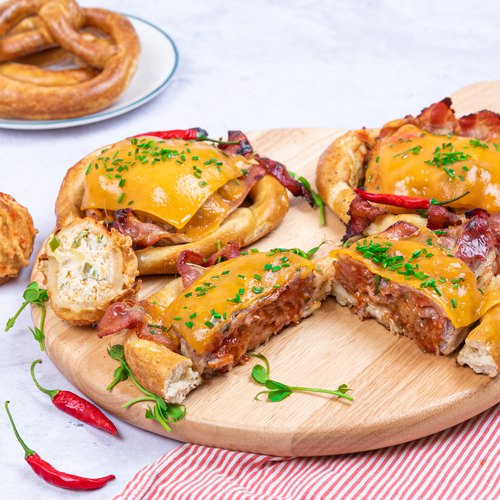 ---
Total time: 35 minutes
Prep time: 10 minutes, Cook time: 25 minutes
Ingredients for 4 people
2 cups of cream cheese
1 cup of cheddar
1 cup of ground sausage
2 cups of breadcrumbs
1 egg
4 soft pretzel dough
12 slices of bacon
Bbq sauce
Chives
1 red bell pepper
1 jalapeño
2 potatoes
2 cups of cornstarch
Potato starch (flour)
Oil
Sour cream
---
Tools
Spiralizer
Panini maker
---
Step 1/3
Mix cream cheese with ½ cup of shredded cheddar, diced bell pepper and jalapeño slices. Shape into 2 oz balls and in a bowl mix cream cheese diced veggies and shredded cheese together. Once combined shape into 2oz balls. Coat in corstarch followed by eggs and breadcrumbs.
Step 2/3
Spiralize the potatoes and coat with potato starch. Dip the cream cheese balls in egg and wrap with the potatoes. Fry in hot oil until golden brown.
Step 3/3
On a hot panini press layer bacon followed by the sausage meat. Cook until done. Add cheese and pretzel. Once the cheese has melted, flip the pretzel and add another slice of cheese. Sprinkle with paprika and chives. Serve with a side of bbq sauce, sour cream and the fried balls. Enjoy!