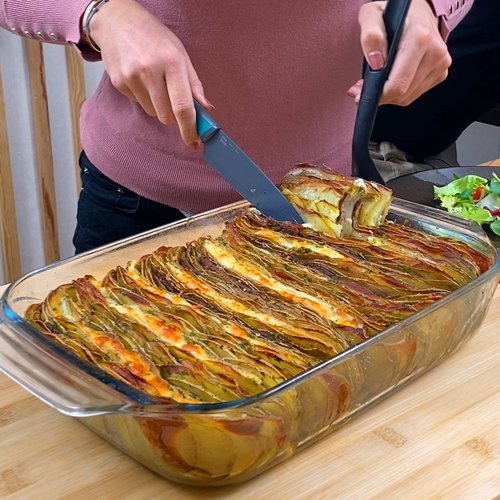 Layered Potato Casserole
You will never look at casseroles the same way again!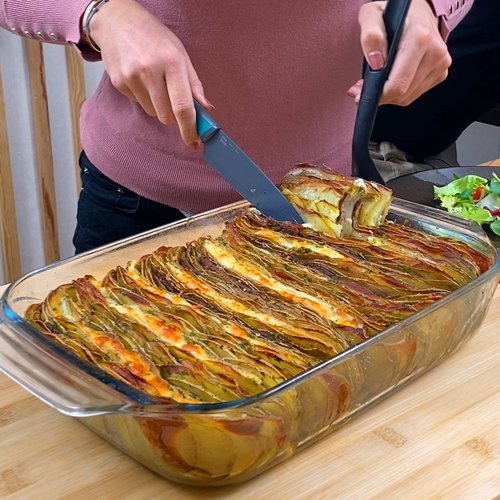 ---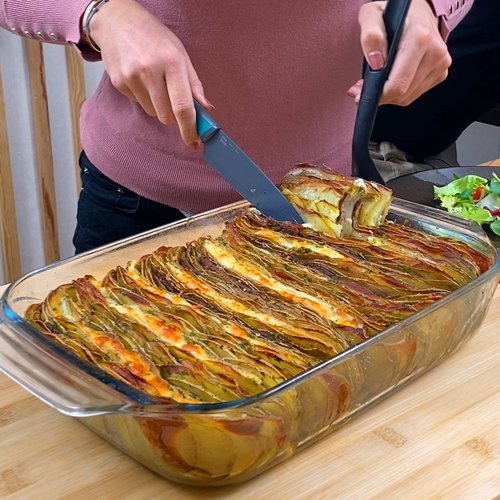 ---
Ingredients for 6 people
1/2 lb of ground beef
1/4 lb of ground pork
1/2 parsley chopped
2 tbsp of paprika
10 potatoes
3 tbsp of olive oil
20 slices of swiss cheese
salt & pepper
---
Tools
Parchement paper
Rolling pin
Mandoline slicer
Baking dish
---
Step 1/3
Mix together the ground beef and pork with 1/4 cup parsley, paprika, 1 teaspoon salt, and 1 teaspoon pepper. Place the meat on a sheet of parchment paper measuring about 16 x 24 inches. Cover with another sheet of parchment paper, flatten with your hands and then with a rolling pin to spread the meat thinly to the edges of the parchment paper. Remove the first sheet of baking paper, cut the meat rectangle down the middle. Then cut into 14 equal rectangles. Grab each slice of meat by the paper, place them meat-side down in a frying pan with a drizzle of oil, remove the paper, and grill on both sides. Set aside.
Step 2/3
Cut thin slices of potatoes with a mandoline slicer. Set the baking dish vertically upright for the assembly of the casserole. Alternate 7 rows of potatoes with a slice of ground meat, repeat up to the top of the dish. Insert the slices of cheese between the rows.
Step 3/3
Mix the olive oil with the remaining parsley and salt & pepper to taste. Brush the dish with this mixture and put it in the oven for 1 hour at 350 °F. Serve with salad and enjoy.