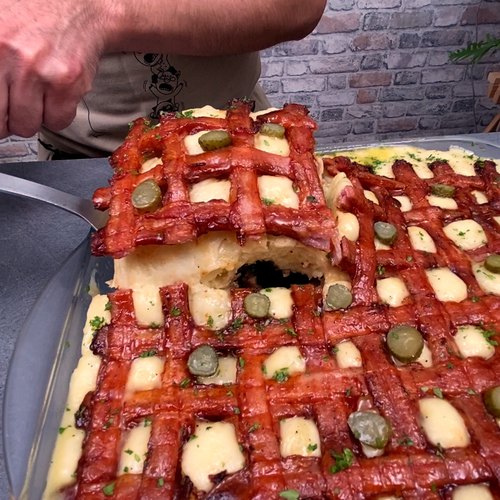 Bacon & Potato Cheese Bake
The ultimate comfort food casserole 🥓🧀🥔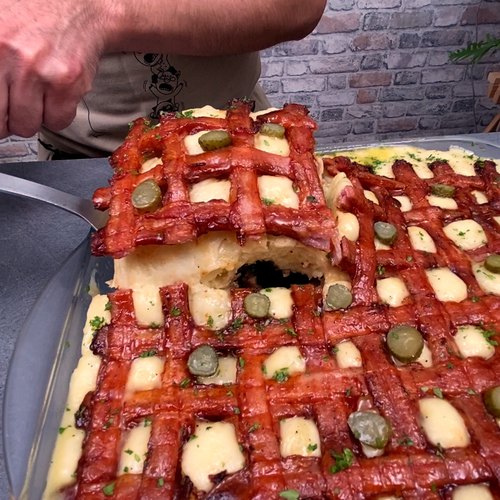 ---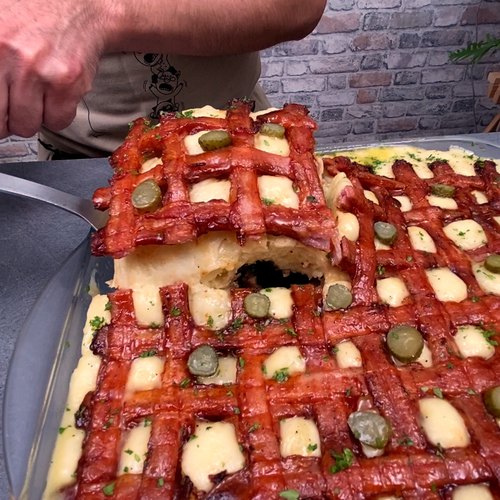 ---
Ingredients for 6 people
28 bacon strips
3 lb of ground beef
1 onion
2 lb of potatoes
20 oz of cheese slices
3 pickles
chefclub's winter casserole seasoning
olive oil
parsley
salt & pepper
---
Tools
Cooling racks
Rectangular baking dish
Foil
Parchment paper
---
Step 1/4
Fold the bacon slices in half lengthwise and arrange them into a grid form between two cooling racks. Bake for 7 minutes at 350 °F.
Step 2/4
Cut the cheese into slices. Set out a large rectangle of foil and place a piece of parchment paper on top. Cut the potatoes into pieces and arrange them in a dome shape on the parchment paper. Cover with the cheese slices. Repeat with a second layer of potatoes and cheese and then season. Fold the foil over the dome to coat it and bake for 20 minutes at 350 °F.
Step 3/4
Fry the sliced onions in a drizzle of olive oil. Add the ground beef and Chefclub's Winter Spices. Once cooked, pour into the bottom of the rectangular baking dish.
Step 4/4
Spread the potato and melted cheese mixture on top. Place the bacon checkerboard on top and push it lightly into the surface. Sprinkle with slices of pickles and chopped parsley. Enjoy!