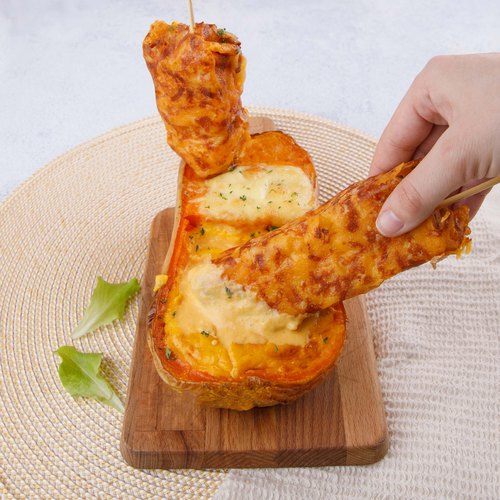 Winter Butternut Soup
Winter Butternut Soup! You butternut miss this yummy recipe 😋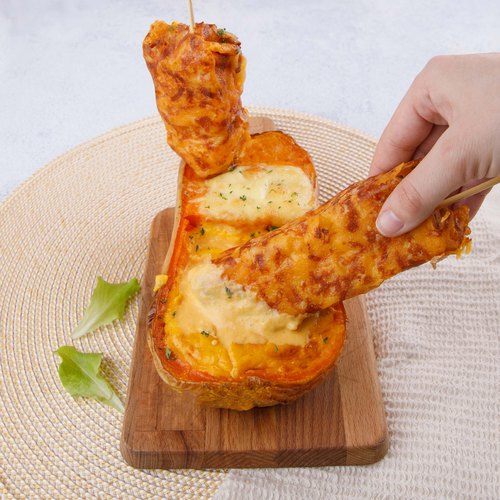 ---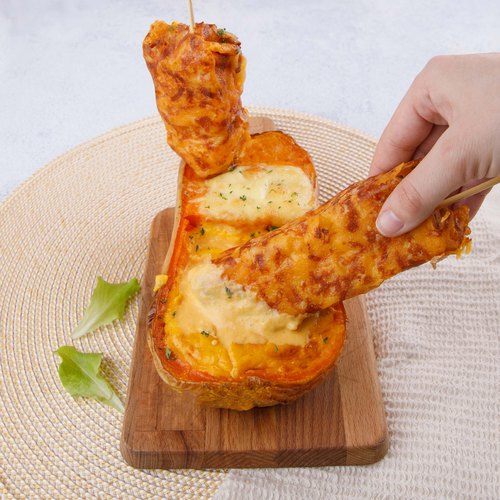 ---
Total time: 1 hour 15 minutes
Prep time: 20 minutes, Cook time: 55 minutes
Ingredients for 6 people
3 baguettes
6 slices of ham
3 tbsp of butter
3 1/2 oz of mozzarella
3 1/2 oz of cheddar
1 butternut squash
2 potatoes
1 onion
2 tbsp of olive oil
1 cup of heavy cream
4 slices of emmental cheese
Salt & pepper
Parsley
---
Tools
Skewers
parchment paper
---
Step 1/3
Butter the baguettes and garnish each baguette with two slices of ham before skewering them on top of each other with two skewers. Stick 4 skewers again in the baguettes, then slice your baguettes between each skewer. Pour the grated cheese mixture onto a hot skillet, place the skewer on the melted cheese and roll it up before setting it aside. Repeat the process for your 6 skewers.
Step 2/3
Cut the butternut squash in half, scoop out the seeds and season with salt and pepper. Peel and cut the potatoes and onions before placing them on the butternut squash. Place the butternut squash on a baking tray lined with parchment paper, then drizzle olive oil on top and bake for 45 minutes at 350°F.
Step 3/3
Cut the inside of each butternut from half, follow the shape of the butternut so as to leave a small border. Collect the flesh of half the butternut squash, place it in a blender, add the liquid cream and blend everything to obtain a creamy texture. Pour the mixture into the butternut squash. Cut two lines in the flesh-filled part of the butternut squash, insert the slices of emmental cheese and bake for 10 minutes at 350°F. Plant the skewers in the butternut squash and sprinkle with parsley. Serve and enjoy!