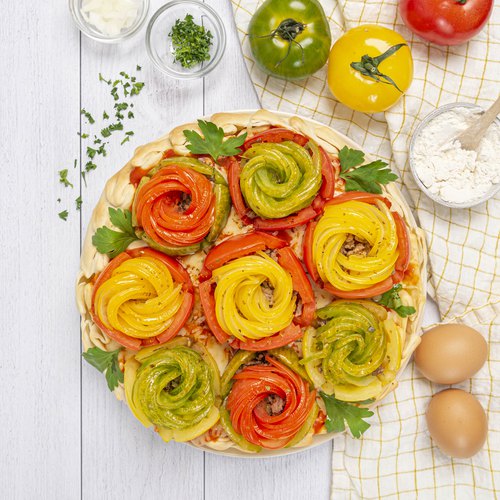 Tomato Flower Pizza
Tomato Flower Pizza! Add some style to your pizza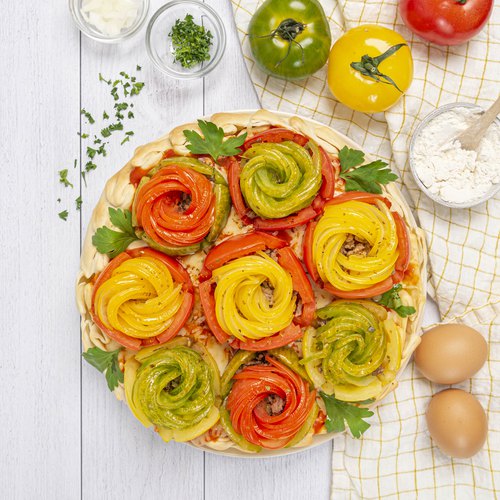 ---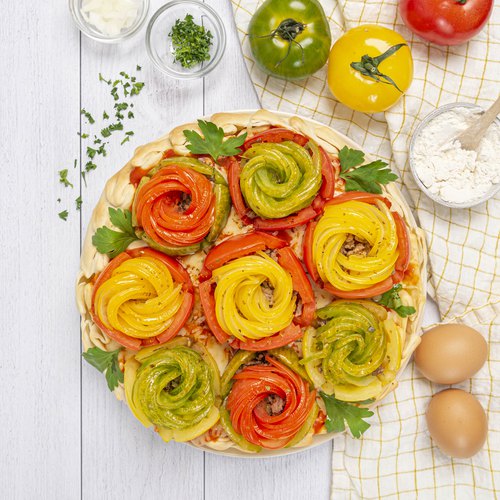 ---
Total time: 55 minutes
Prep time: 30 minutes, Cook time: 25 minutes
Ingredients for 3 people
3 red tomatoes
3 yellow tomatoes
3 green tomatoes
3/4 lb of ground beef
2 tsp of spices
1 1/4 cups of tomato sauce
2 pizza doughs
3 1/2 oz of mozzarella
Olive oil
Salt & pepper
1 onion
Parsley
---
Step 1/3
First, wash and drain the tomatoes. Next, add a drizzle of olive oil to a pan and add in the ground beef, diced onions, salt, and pepper. Sprinkle 2 teaspoons seasoning over the mixture. Set this mixture aside in a bowl, and pour 0;8 cup of tomato sauce into the remaining ground beef in the pan.
Step 2/3
Make a square incision on a red tomato. Remove the square and empty the inside of the tomato into a bowl. Stuff the tomato with the ground beef mixture, then cut a yellow tomato in half and keep one half. Cut the half into thin slices and stretch them by rolling them inward to form a flower. Place the yellow flower to decorate the red tomato. Repeat to obtain 3 red tomatoes with a yellow tomato flower, 1 red tomato with a green tomato flower, 2 yellow tomatoes with a green tomato flower, and 2 green tomatoes with a red tomato flower.
Step 3/3
Roll out 1 pizza dough on a work surface and top it with the remaining ground beef, then cover with the second pizza dough. Pinch the edges of the dough with your fingers to seal the two together and raise the edges. Bake for 15 minutes at 390°F. Pour the remaining tomato sauce into the center of the dough. Sprinkle with grated mozzarella cheese and arrange the tomato flowers on top. Brush with olive oil and bake for another 10 minutes at 350°F. Garnish with parsley and enjoy!