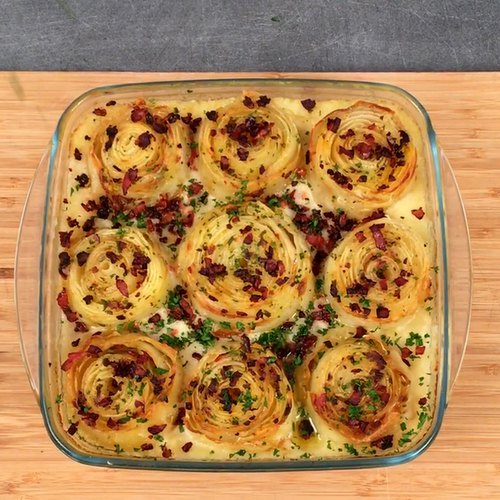 Blooming Potato Casserole
Overflowing with an herb & chorizo butter!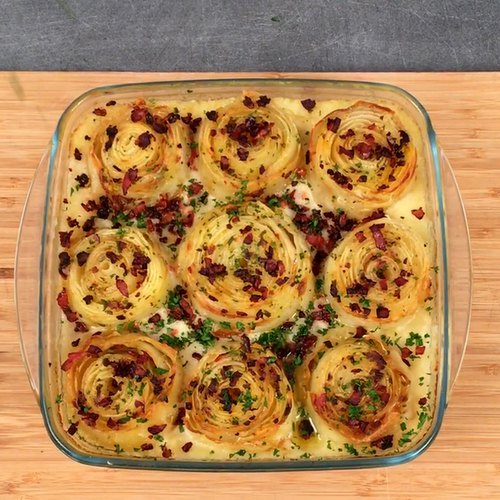 ---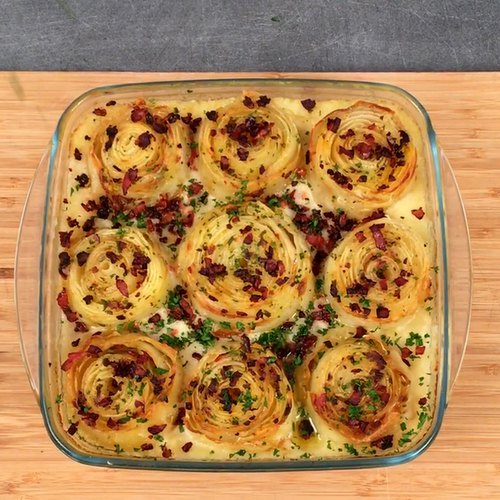 ---
Ingredients for 8 people
6 potatoes
4 chorizo
1 1/8 cups of butter
1 onion, chopped
1 lb of ground beef
olive oil
dried herbs
parsley
salt & pepper
---
Tools
Potato peeler
Toothpicks
Parchment paper
---
Step 1/4
Peel then cut off the top and bottom of the potatoes to keep only a thick central section. Use the peeler to cut the pototoes into 1 long strip of potato. Roll these strips back on themselves to form 9 rolls. Hold the rolls with the toothpicks or skewers and place them in a bowl of water.
Step 2/4
Slice the chorizo finely and mix it with 1 cup of butter and herbs. After it's well mixed, place the butter mixture on a sheet of parchment paper. Place another sheet of parchment paper on top then flatten the butter by pressing the square dish over it. Cut the flatten butter to the same size as the dish then place it in the freezer.
Step 3/4
Cook the onion in a drizzle of olive oil and then add the ground beef to the pan. Sprinkle with chopped parsley and cook until brown. Cook the potato scraps in salted water and mash them with the remaining butter. Spread the ground beef at the bottom of the pan and cover with the mashed potatoes.
Step 4/4
Place the potato rolls on the mashed potatoes, sprinkle with salt and pepper and place the butter plate on top. Bake for 20 minutes at 350 °F. Once baked, sprinkle with chopped parsley and enjoy!