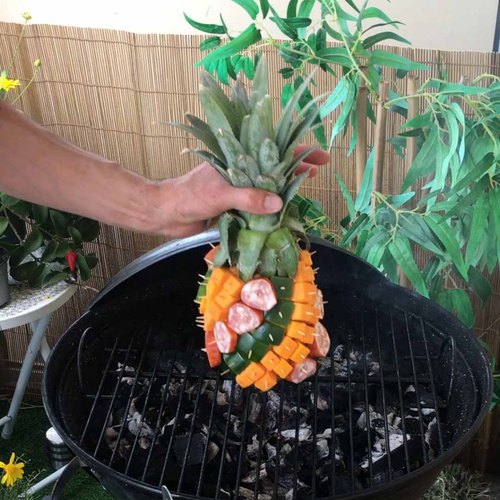 Next-Level Barbecue Ideas
Next-Level Barbecue Ideas! Today we're taking over the grill! 🌮🥩🔥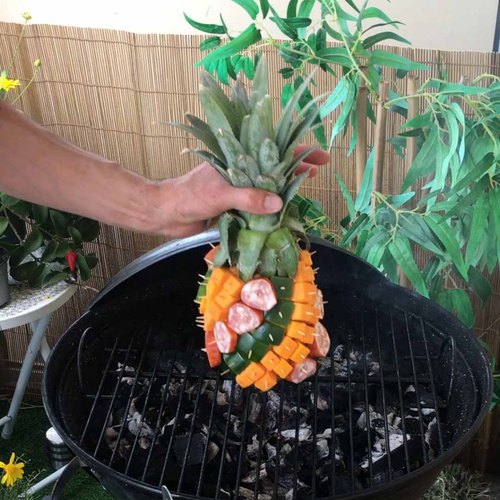 ---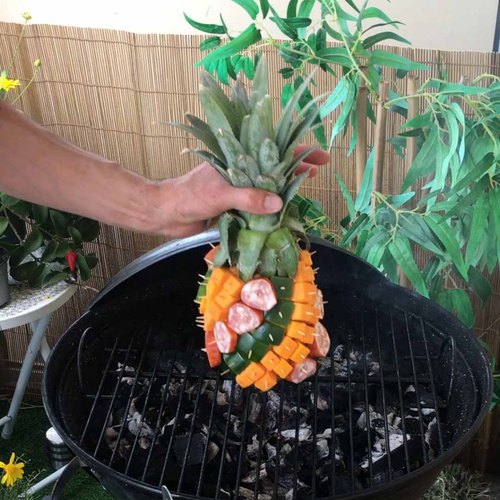 ---
Ingredients for 6 people
green bell pepper, cubed
cheddar, cubed
smoked sausage
pineapple
cooked pork, cubed
salt & pepper
bbq sauce
pineapple, peeled and cored
tortillas
cilantro, for garnish
hot sauce, for garnish
jalapeños
hot dogs
hot dog buns
cream cheese
grated cheddar
seasoned ground beef
seasoned ground chicken
onions, sliced with centers removed
olive oil
poultry seasoning
queso dip, for serving
string cheese
chicken tenders
bacon
---
Tools
Skewers
---
Step 1/5
BBQ APPS TOWER: Skewer cheddar cubes, smoked sausage, and bell pepper. Place around a peeled pineapple. Smoke on the grill at a low heat. Serve as an appetizer, then cut the pineapple and eat as well.
Step 2/5
EASY PORK TACOS: Mix cooked pork with salt, pepper, and barbecue sauce. Fill the center of a cored pineapple with mixture then secure the top using skewers. Wrap in bacon and grill until bacon is cooked. Remove top then chop everything together and serve in a tortilla. Hot sauce and cilantro optional
Step 3/5
JALAPEÑO POPPER DOGS: Remove the top and bottom from the jalapeño, then remove the seeds, place a hot dog in the center and grill until both are cooked. Place in a warmed hot dog bun and top with cream cheese and grated cheddar. Add additional hot dog toppings as desired. Enjoy!
Step 4/5
BURGER POPS: Cut thick slices of onion, removing the center. Fill the center with ground beef then ground chicken. Skewer the onion, drizzle in olive oil, then dip the chicken side of the onion into poultry seasoning. Grill until cooked through. Serve with queso dip.
Step 5/5
TORNADO CHEESE STICKS: Place cheese stick onto skewer, using a knife cut in a diagonal pattern. Pull apart and fill the open space with a chicken tender. Then wrap each cheese stick in bacon. Grill until cooked. Serve with barbecue sauce for dipping.