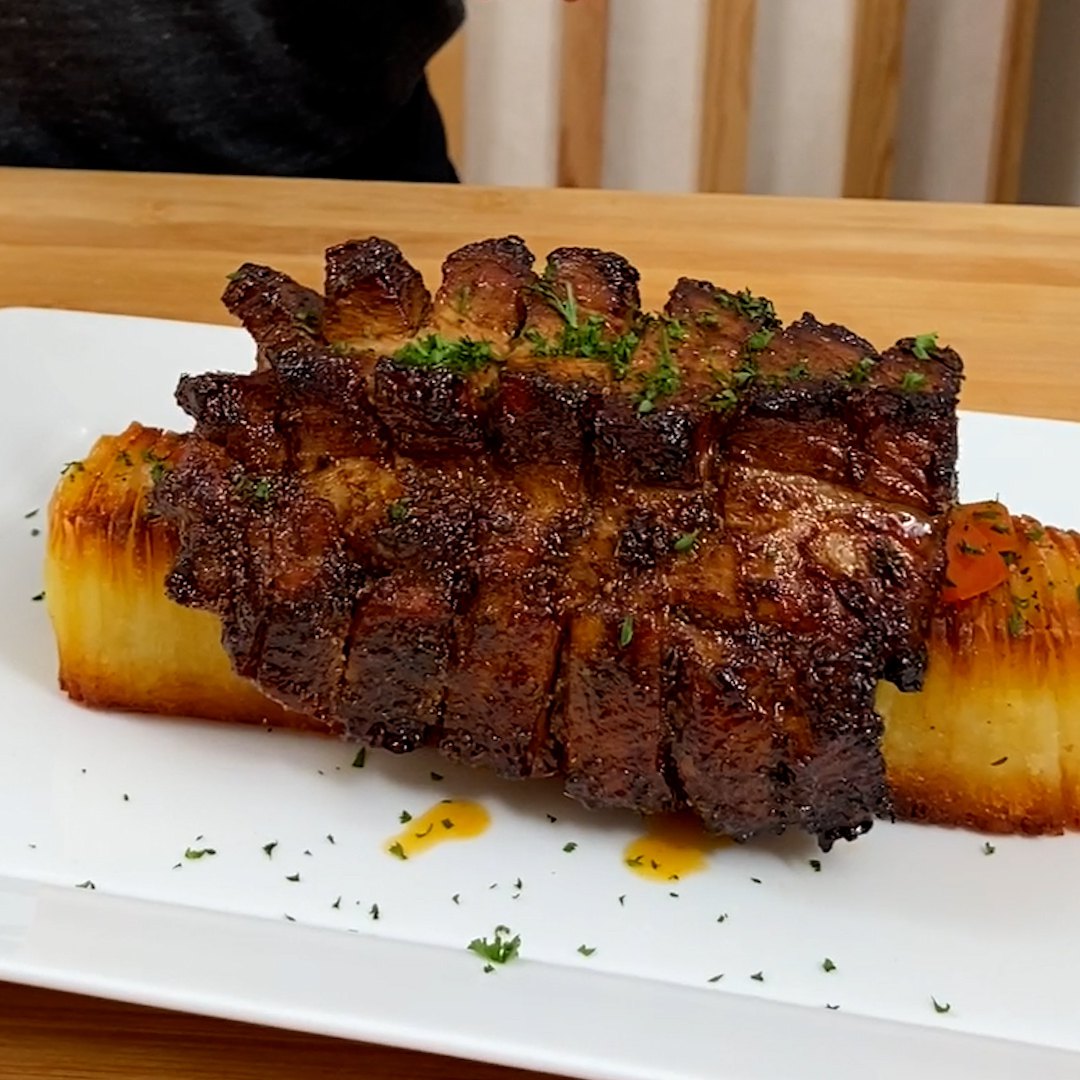 BBQ Pork Loin
Served with an elegant stack of potatoes!
Total time: 45 minutes
Ingredients for 2 people
Potatoes
Roasted peppers
Pork loin
Cajun seasoning
Salt & pepper
BBQ sauce
Olive oil
Parsley
---
Tools
Aluminum foil
Mandolin
Rolling pin
Parchment paper
---
Step 1/3
For the potato block: cut the potatoes to form 2 rectangular blocks of the same size. Use a mandolin to obtain thin squares of potatoes, sprinkle with salt and pepper, then gather them in a single block. Wrap in aluminum foil and place in an oven-safe dish. Add diced butter on top of the potatoes, garlic cloves, and thyme to the dish. Bake for 40 min at 350 °F.
Step 2/3
Meanwhile, cut the pork loin in the center along its entire length to open it. Cut each part in half lengthwise, then make 4 cuts across the width. Cut in the middle of each notch across the width to form a grid across the entire meat. Sprinkle with Cajun seasoning. Wrap a sheet of parchment paper around the rolling pin. Brush the meat with olive oil and place it on the roll to give it a rounded shape. Bake in the oven for 10 minutes at 350 °F. Brush with barbecue sauce and bake again for 10 minutes at 350 °F.
Step 3/3
Remove the aluminum from the potato block and fry on all sides. Drain on paper towels and place on a plate. Add roasted peppers on top. Place the meat on top of the potato block and sprinkle with chopped parsley. Serve and enjoy!