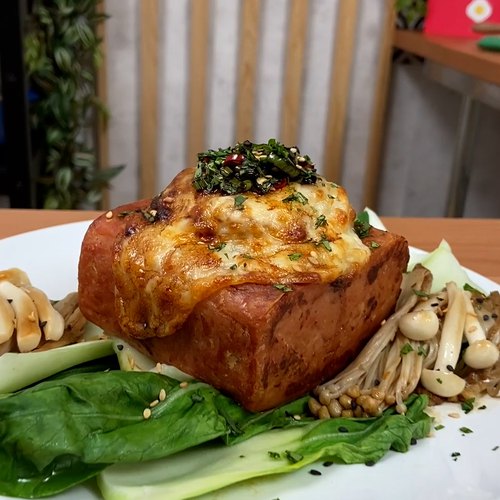 Spam Squares
Piled high with homemade fried rice 🍚🤤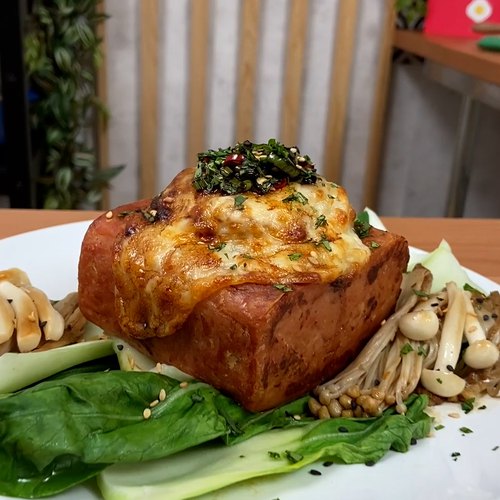 ---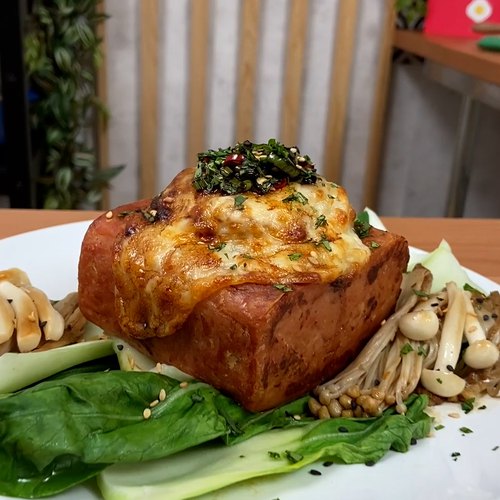 ---
Ingredients for 3 people
36 oz of spam
olive oil
1 carrot
1/3 cup of peas
1 clove garlic
1/2 cup + 1 tbsp soy sauce, divided
1 tbsp of oyster sauce
1/2 cup of white rice
4 eggs
1 cup of grated mozzarella
1/2 cup of rice vinegar
1/2 cup of green onions
3 red chilis
12 bok choy leaves
sauteed mushrooms
sesame seeds
cilantro
---
Tools
Parchment paper
Rice cooker
---
Step 1/3
Cut a pyramid shape out of the surface of each Spam cube and set in bowl. In a frying pan with olive oil, brown each Spam cube on all sides, then place on a parchment lined baking sheet. Dice the removed Spam and heat in a frying pan with olive oil, diced carrots, peas, garlic, 1 tbsp soy sauce, and oyster sauce. After a few minutes, place mix in the rice cooker.
Step 2/3
Add in the rice, 1 1/2 cups water, and 4 eggs. Cover and cook for 10 minutes. Uncover and stir well to mix in the eggs. Fill each Spam cube with the fried rice mix and cover with a generous handful of grated mozzarella. Bake for 10 minutes at 350 °F.
Step 3/3
Meanwhile, make a red chili soy sauce by combining the rice vinegar, 1/2 cup of soy sauce, sliced green onions, and sliced red chilis in a bowl. Next, prepare the serving plate. Place four bok choy leaves on each plate and top with sauteed mushrooms. Remove the Spam cubes from the oven and place on each plate. Garnish with red chili soy sauce, sesame seeds, and cilantro. Enjoy!
Similar recipes from Chefclub
-
Our other recipes