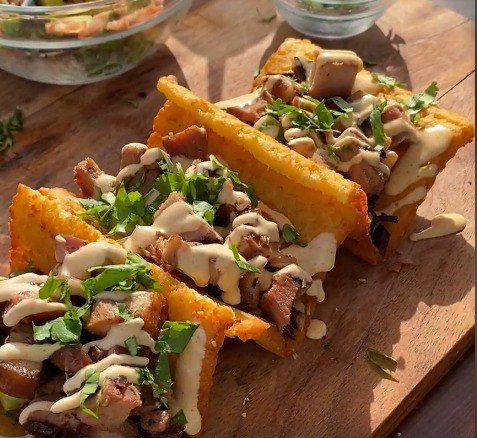 Cherryfic Ham & Fritos Tacos
Cherryfic Ham & Fritos Tacos! With cherry Dr. Pepper pork 😀🌮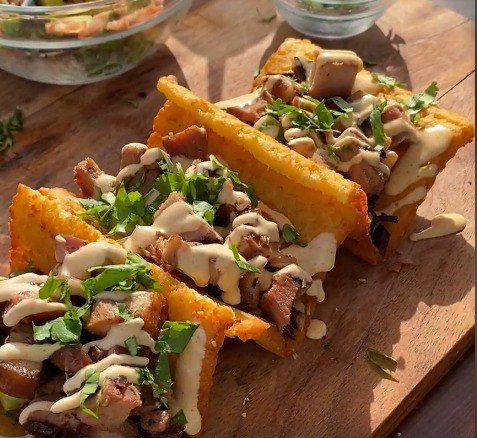 ---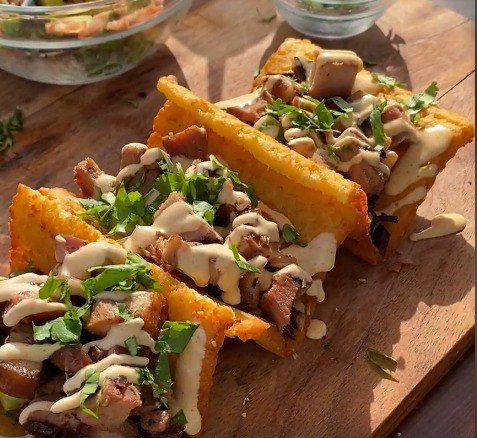 ---
Total time: 1 hour 5 minutes
Prep time: 5 minutes, Cook time: 1 hour
Ingredients for 3 people
3 dr. pepper can
1 ham
Brown sugar
Cherries
Cheddar
Chips
1 egg
Water
Oil
Red cabbage
Brussels sprouts
Bacon
Chipotle sauce
Cilantro
Lime
---
Tools
Skewers
---
Step 1/3
Take a ham and cut slices (do not go all the way through). Pour the cherry soda, brown sugar and cherries on the ham. Stick skewers through the ham and place on the grill. Cook until done. Chop into pieces and reserve.
Step 2/3
In a food processor add the chips, egg, flour, cheddar, salt and water. Blend until smooth. Roll out and place on metal taco holder. Fry in hot oil until crispy.
Step 3/3
Place the ham, red cabbage, Brussel sprouts and chipotle sauce in the taco shells. Sprinkle with lime and cilantro. Serve and enjoy!