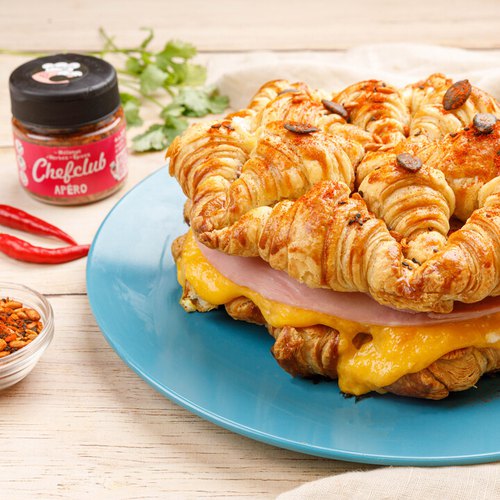 Cheesy Croissant Crown
Cheesy Croissant Crown! The maxi croissant crown with ham & cheese filling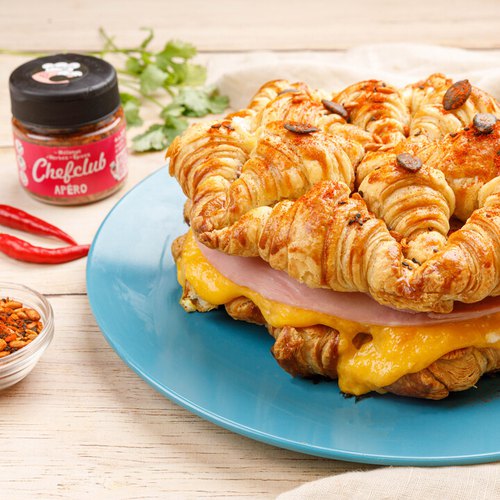 ---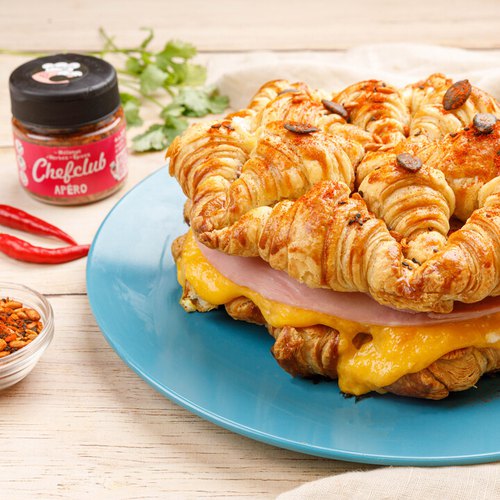 ---
Total time: 45 minutes
Prep time: 10 minutes, Cook time: 35 minutes
Ingredients for 5 people
5 oz of cheddar
1 beer
5 egg
2 tbsp of vinegar
1 puff pastry
2 tbsp of chefclub appetizer seasoning
6 slices of ham
---
Step 1/4
Melt the cheddar cheese with beer, mix well in a hot pan and set aside.
Step 2/4
Pour eggs, white vinegar and water in a shallow dish, then microwave for 3 minutes.
Step 3/4
Cut the puff pastry in half widthwise, then cut 24 small triangles from each half. Gently stretch the triangles and roll the dough to obtain small croissants. Repeat the process to get 2 large discs of 12 small croissants each and place them on a baking sheet lined with parchment paper. Sprinkle with Chefclub spices for appetizers, then bake for 25 minutes at 350°F.
Step 4/4
Let the croissant discs cool down, then flip one disc onto a plate. Place 3 slices of ham, pour the melted cheddar, the poached eggs, the remaining slices of ham, then cover with the second croissant disc and enjoy!