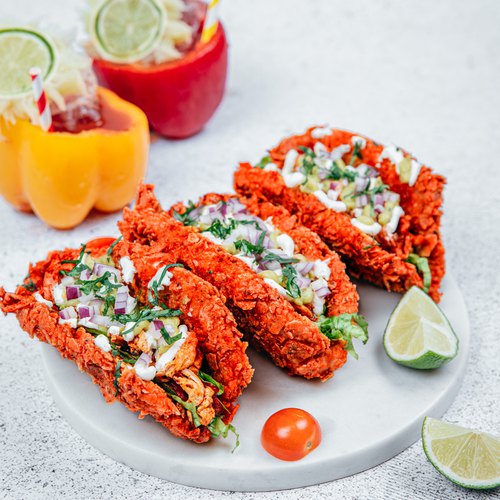 Cheetos Chicken Tacos
Cheetos Chicken Tacos! Served with a Corona cocktail 🍺🌮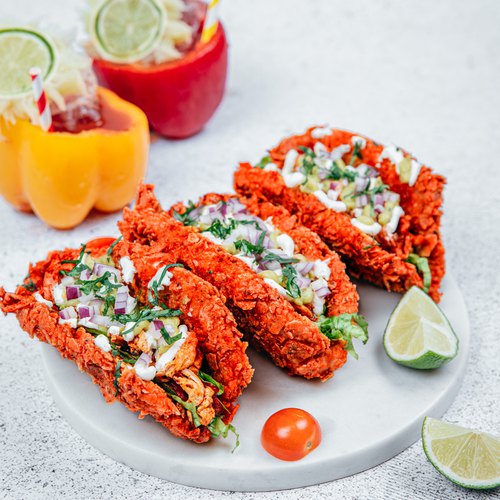 ---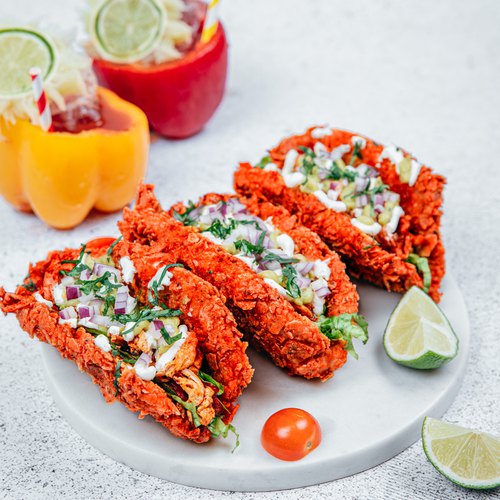 ---
Total time: 1 hour 15 minutes
Cook time: 15 minutes, Rest time: 1 hour
Ingredients for 3 people
4 cups of chicken breasts
1 cup of flour
Chefclub tex-mex mix
1 egg
2 cups of flamin' hot cheetos
Guacamole
Salsa
Oil
1 tbsp of olive oil
Sour cream
1 red onion
Cilantro
4 red bell peppers
1 beer
1/4 cup of lime juice
1 tbsp of soy sauce
2 tsp of hot sauce
4 limes
2 cups of sugar
1 cup of water
1 can of tomato juice
---
Tools
Cling wrap
Meat mallet
---
Step 1/3
Place a chicken breast between to pieces of cling wrap. Beat with a meat mallet until flat. Repeat with the remaining chicken breasts. Place the small bowl over one of the chicken breasts, then cut the meat into the shape of the bowl. Reserve the excess chicken. Repeat with the remaining breasts. Season each chicken breast with Mexican spice to taste, then dredge them one-by-one in the flour, the egg and then the crushed Cheetos. Place the dredged chicken circles upside down on the taco holder and then freeze them for one hour.
Step 2/3
Heat the frying oil. Thinly slice the remaining chicken. Heat the olive oil in the frying pan over medium heat, then add the sliced chicken and Mexican seasoning. Sauté the chicken until it is fully cooked and set aside. Once the chicken has frozen and the oil is at temperature, carefully lower the frozen tacos into the oil on the metal taco holder. Add the cooked, sliced chicken to the chicken taco shells, then top with your favorite taco fillings, like salsa, sour cream, cheese and guacamole.
Step 3/3
Cut the tops off of each bell pepper and remove the seeds. Add the sugar and water to a small saucepan over medium heat. Stir until sugar is dissolved. Let cool, then pour into a glass jar or pitcher. Place the bell peppers cut side down on a wire rack over a parchment paper-covered baking sheet. Slowly pour the sugar mixture over each pepper to fully coat. Allow to dry. In a pitcher, add the tomato juice, lime juice, soy sauce, hot sauce and stir well to blend. Coat the rim of each pepper with the spice blend, then add three ice cubes to each pepper. Divide the beer between each pepper, then top with the tomato juice mixture. Garnish with lime. Serve with the chicken tacos. Enjoy!