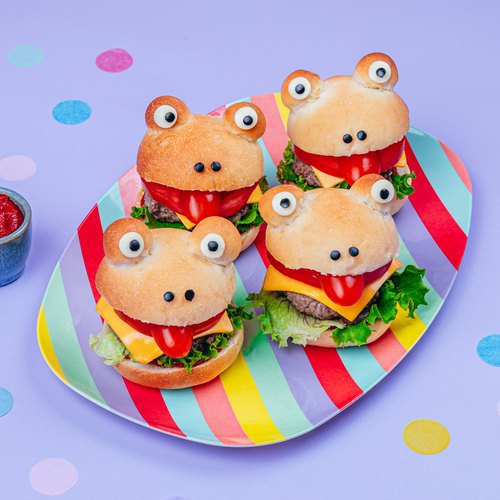 Froggy Burgers
Froggy Burgers! The perfect blend of savory and hoppy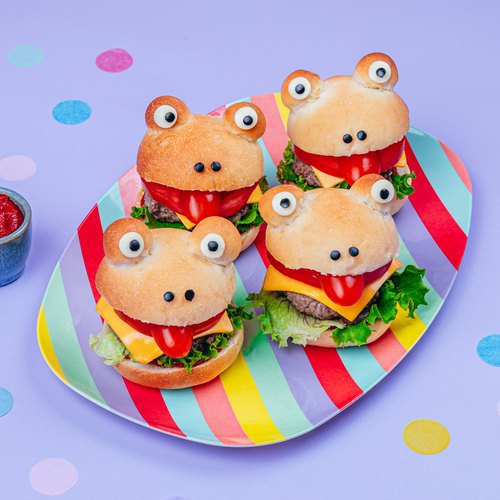 ---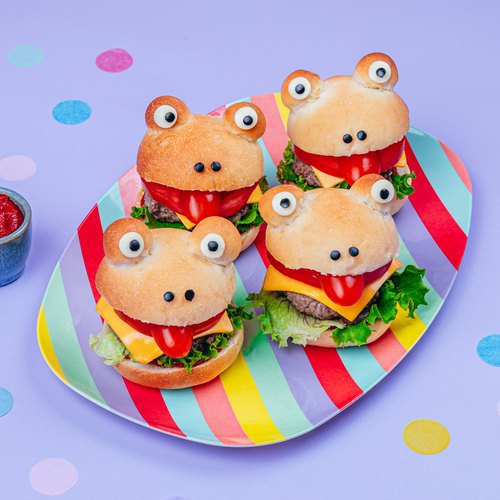 ---
Total time: 2 hours 27 minutes
Prep time: 45 minutes, Cook time: 12 minutes, Rest time: 1 hour 30 minutes
Ingredients for 4 people
1 tsp of yeast
2 pinches of salt
1 cup of ground beef
2 3/4 cups of flour
1 cup of tomato puree
Oil
2 tbsp of sugar
1/4 cup of orange juice
1 tomato
1 cup of milk
1 tbsp of apple cider vinegar
Salad
2 tbsp of butter
1 tbsp of brown sugar
Black olives
1 tbsp of honey
Cheese
1 pinch of pepper
4 cherry tomatoes
1 pinch of nutmeg
---
Tools
Cling wrap
---
Step 1/3
1 tsp of yeast - 2 3/4 cups of flour - 2 tbsp of sugar - 1 cup of milk - 2 tbsp of butter - 1 pinch of salt
Mix 1 mouse of lukewarm water and 1 chick of yeast, 1 cat and 2 chefs of flour, 2 hens of sugar, 1 chef of warm milk and 1 pinch of salt until you obtain a smooth dough. Add 2 hens of butter, knead the dough until it forms a ball, cover it with cling wrap and let it rise for 1 hour at room temperature. Degas the dough, divide it into 7, form balls of dough and allow it to rest for 30 minutes under a clean towel. Cut 1 ball of dough into pieces, form 12 small balls of dough and place 2 small balls of dough on each ball of dough and allow it to rise again. Bake for 12 minutes at 370°F.
Step 2/3
1 pinch of salt - 1 cup of tomato puree - 1/4 cup of orange juice - 1 tbsp of apple cider vinegar - 1 tbsp of brown sugar - 1 tbsp of honey - 1 pinch of pepper - 1 pinch of nutmeg
Heat 1 chef of tomato puree, 1 mouse of orange juice, 1 hen of apple cider vinegar, 1 hen of water, 1 hen of brown sugar and 1 hen of honey. Season with salt and pepper. Grate the nutmeg, mix the preparation and cook over low heat for 30 minutes.
Step 3/3
1 cup of ground beef - Oil - 1 tomato - Salad - Black olives - Cheese - 4 cherry tomatoes
Cut the tomato into slices. Make 4 patties using 4 mice of ground beef. Cook them in an oiled frying pan. Cut the burger buns in 2, spread the sauce, add the salad, the patty, the cheese, the tomato and cover with the top bun. Repeat the process for each burger. Cut the rest of the cheese and the olives into circles. Place the circles of cheese on the small balls on the buns and add the olives to create the eyes. Place the rest of the olives to create the muzzle. Cut the cherry tomatoes in 2 and place them above the tomato slice to form the tongue. Serve and enjoy!