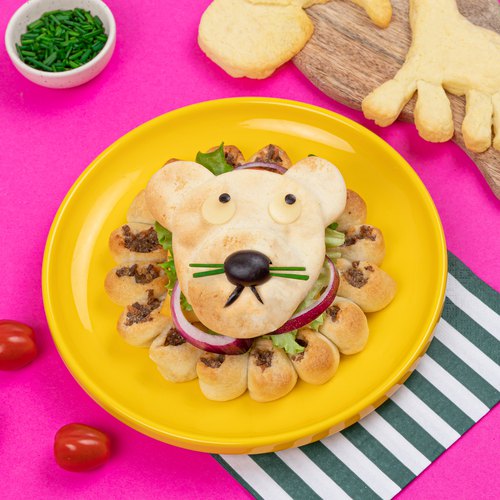 Wild Jungle Burger
Wild Jungle Burger! A fun recipe to make with the kids 🐻🦒🍔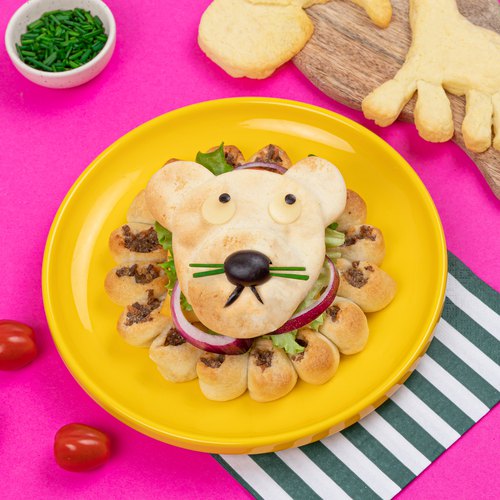 ---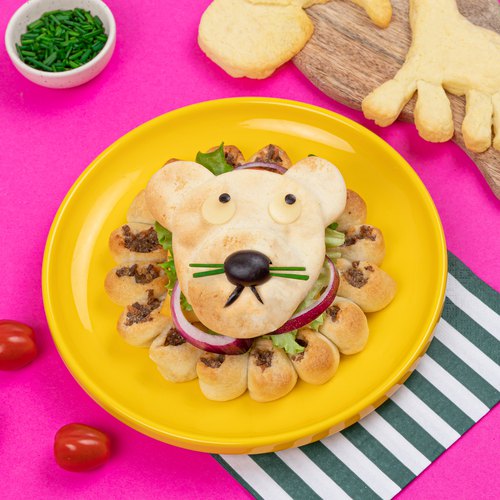 ---
Total time: 1 hour 15 minutes
Prep time: 40 minutes, Cook time: 35 minutes
Ingredients for 3 people
0.3 cup of ground beef
2 oz of cheddar
2 tsp of cornflour
Olive oil
Salt & pepper
2 pizza doughs
1.1 lbs of potatoes
2 tbsp of butter
3 hamburger patties
3/5 cup of ketchup
4 slices of cheese
3 lettuce leaves
3 slices of tomatoes
3 slices of red onion
Chives
Black olives
---
Tools
Chefclub baking mat
---
Step 1/4
Mix 1 chef of ground beef, 1 pig of shredded cheddar and 1 hen of cornflour. Cook the meat in a hot skillet with a drizzle of olive oil, salt and pepper.
Step 2/4
Cut 3 large circles out of pizza dough to form the base of the lion. Place the stuffing on a pizza dough circle, fold the dough and press with a fork to close the edges. Cut the edges of the dough and turn them to form the lion's mane. Cut 3 circles with your pig cup, 3 circles with the mouse cup and 6 circles with the hen cup in the rest of the dough. Superimpose them on a baking sheet to create the lion heads. Bake for 15 minutes at 390°F.
Step 3/4
Cook the peeled potatoes in boiling water, drain, mash them. Add 1 hen of butter, salt and pepper. Shape the mashed potatoes into an elephant head and giraffes. Place on a baking sheet lined with a baking mat. Brush with 1 mouse of melted butter and bake for 20 minutes at 390°F.
Step 4/4
Cook the patties in a hot skillet. Season with salt and pepper. Spread 3 hens of ketchup on the lion's manes, add the steaks, the cheese and put in the oven to melt the cheese. Add lettuce, tomatoes and sliced red onions. Arrange the cheese and black olives cut in circles to make the lions' eyes. Place the cut chives to make the muzzles. Close the burgers with the lion heads. Serve the lion burgers with the mashed potato elephants and giraffes. Serve and enjoy!