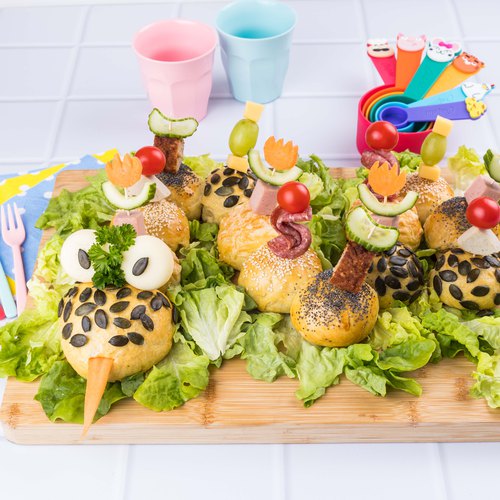 Caterpillar Bread
Caterpillar Bread! Kids will have fun with this recipe 🐛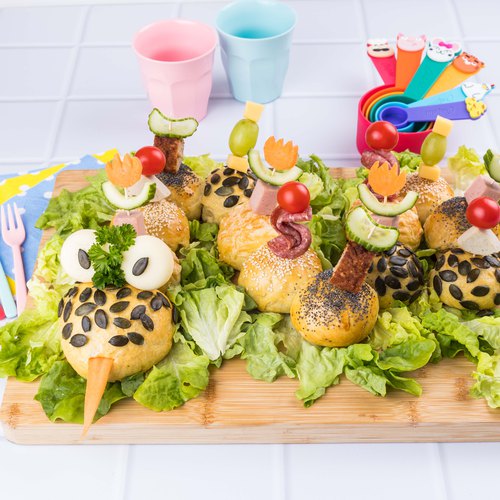 ---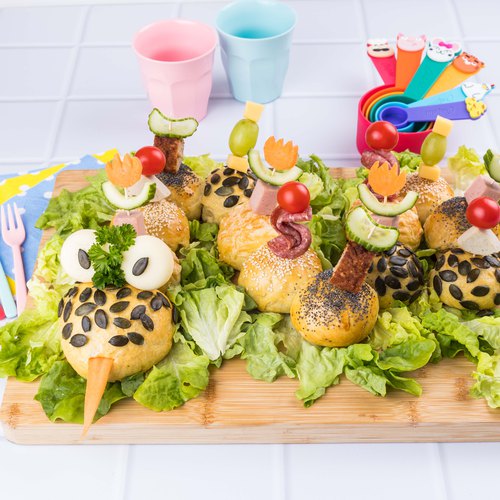 ---
Total time: 1 hour 30 minutes
Prep time: 15 minutes, Cook time: 20 minutes, Rest time: 55 minutes
Ingredients for 6 people
3 cups of flour
1 cup of water
1/2 cup of olive oil
1 tsp of sugar
1 tsp of yeast
1 egg yolk
1 1/2 tbsp of milk
1 tsp of poppy seeds
1/4 cup of pumpkin seeds
Grape skewer
2 babybel cheeses
1/2 cucumber
1 carrot
Mini hot dogs
2 slices of bologna
2 slices of salami
Salt
Sesame seeds
Tomatoes
---
Tools
parchment paper
Rolling pin or metal rod
Pastry brush
---
Step 1/4
Mix the yeast and the sugar in the water. Allow to rest for 15 minutes.
Step 2/4
Put the flour in a bowl, make a well in the center and pour the yeast mixture into it. Start mixing and add the oil and salt. Knead until you obtain a smooth dough and aloow to rise for 40 minutes.
Step 3/4
Form small balls. A larger one for the head and then smaller ones to form a caterpillar body on the baking mat. Mix egg yolk with milk and brush top of the caterpillar. Garnish the top of the buns, alternating sesame seeds, poppy seeds, pumpkin seeds and cheddar.
Step 4/4
Bake 20 minutes at 390°F. Place two babybels with toothpicks to create the eyes with the sunflower seeds. Make flower skewers with a carrot cut into a tulip and a cucumber cut like leaves. Cut the hot dog to make a flower pot. Add the grape skewer, tomato, bologna and salami. Serve and enjoy!