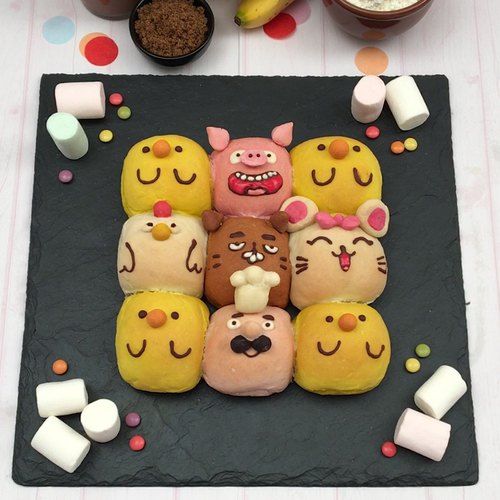 Recipe
Chefclub Crew Buns
Meet (and eat) the Chefclub characters.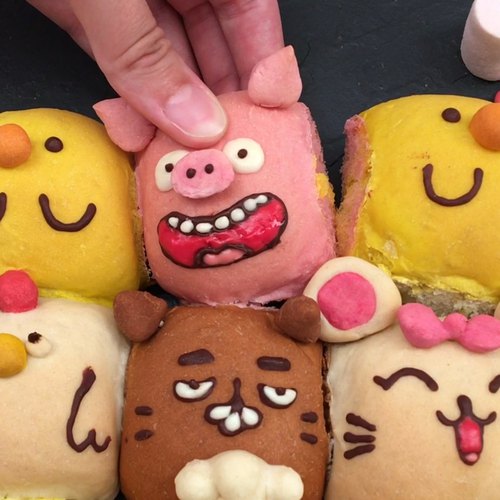 Mix 3 pigs of flour, 1 pig of water, 1 chick of yeast, 1 hen of sugar, and a pinch of salt. Knead to obtain a dough and divide it into 10 balls. Add yellow food coloring to 4 balls, red coloring to 2, and melted milk chocolate to 1. Knead these balls again to color them evenly.

With a colorless ball and dyes of different colors make the accessories for the characters. Place a slice of banana and a square of chocolate on each ball and enclose them. Place the 9 balls in the square cake pan with the yellow balls in the corners, the pink ones at the top and bottom and the brown one in the centre. Let the dough rise and then add the accessories. Bake for 20 minutes at 350 °F.

Place melted dark chocolate in a small bowl and melted white chocolate in 3 others. Add pink food coloring to one and red to another. Use toothpicks to paint the faces on the characters with the chocolate.
It's ready!
SIGN UP
FOR FREE
TO SEE THE RECIPE
DISCOVER CHEFCLUB KIDS
A new experience made just for kids
Chefclub Kids promotes creativity and autonomy in kids 👨‍🎨
Chefclub Kids makes vegetables the star of the plate 🥕
Chefclub Kids makes it possible to cook and play as a family 💚
ORDER
Recipes that are fun, creative, and healthy
Kids become creators, owners of their recipes
20 easy-to-make illustrated recipes