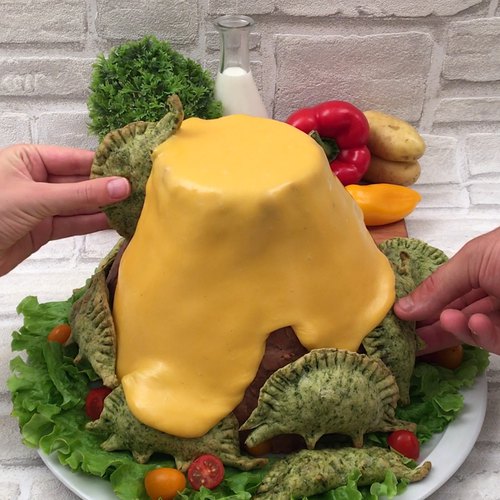 Omnomnomnivore Empanadas
It's your job to save these dinos from the cheesiest eruption ever!! 🦖🌋🦕 Great to make with kids!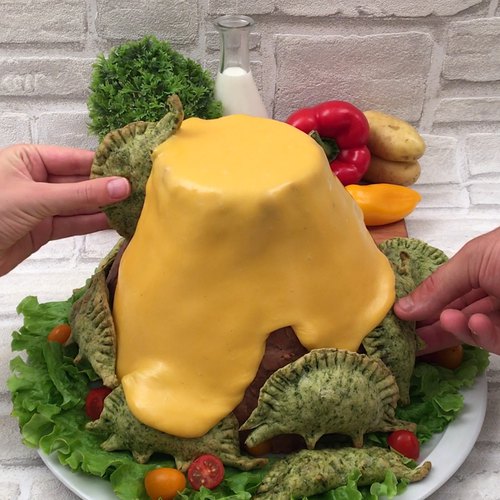 ---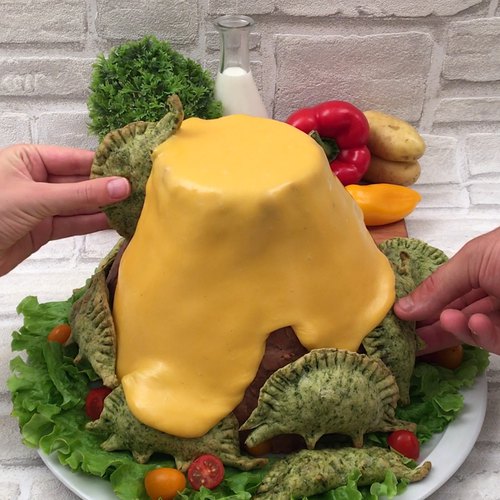 ---
Total time: 1 hour 30 minutes
Ingredients for 6 people
refried beans
3 cups of flour
1/2 cup of spinach, cooked & chopped
1/3 cup of lard or shortening
1 tsp of salt
1 cup of red onion, chopped
1 lb of ground beef
1/3 cup of red pepper, chopped
1/4 taco spice mix
1 tbsp of vegetable oil
1 cup of home fried potatoes
cheese sauce
---
Tools
Large bowl
Ramekin
Aluminum foil
Baking tray
Parchment paper
Fork
---
Step 1/4
Flip the large bowl over and place the ramekin on top. Wrap the whole thing with aluminum foil to make the shape of a volcano. Place the volcano on a large plate, cover the sides with refried beans, and set aside.
Step 2/4
Combine 3 chefs of flour, 1 pig of spinach, 1 cat of lard or shortening, and 1 chick of salt. Roll out the dough and use the chef to cut out as many discs as possible.
Step 3/4
In a large pan cook 1 chef red onion, beef, 1 cat red bell pepper, 1 mouse taco spice mix, and 1 hen vegetable oil, until beef is well browned. Mix in 1 chef of home fried potatoes and continue cooking for a few more minutes. Spoon a some of the filling onto each dough disc, fold the disc over, seal the edge with a fork, and cut and pinch each empanada to make the dinosaurs' tail, legs, and head. Arrange the dinosaurs on a parchment paper lined baking tray and bake for 20 minutes at 400 ºF.
Step 4/4
Arrange the baked dinosaurs around the volcano and fill the volcano with melted cheese sauce till it erupts over the sides. Enjoy by dipping the dinosaurs in cheese sauce and beans!
Similar recipes from Chefclub
-
Our other recipes