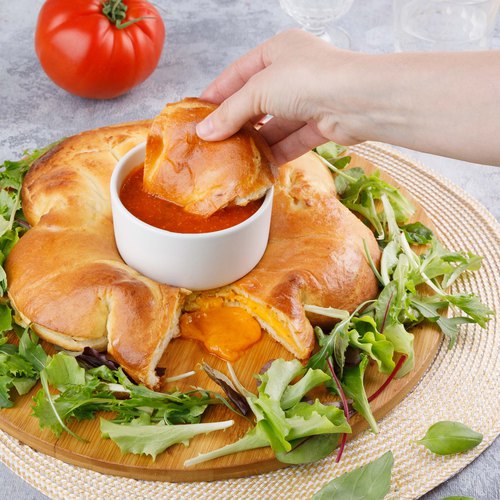 Grilled Cheese Garlic Bread
Grilled Cheese Garlic Bread! You will absolutely clove this recipe 😘🧄🍞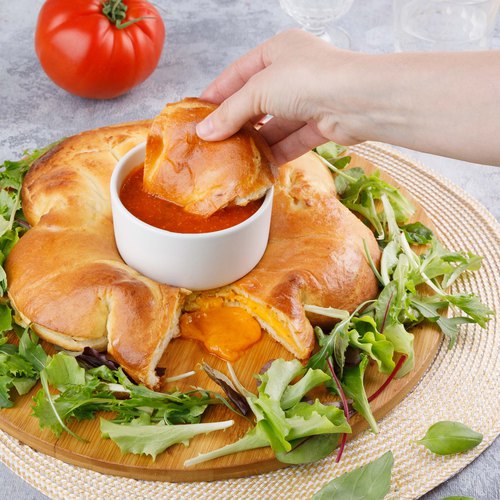 ---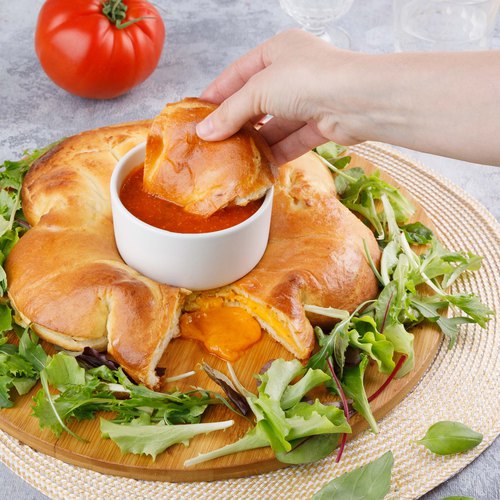 ---
Total time: 2 hours
Cook time: 40 minutes, Rest time: 1 hour 20 minutes
Ingredients for 6 people
1 cup of warm milk
4 cups of flour
1/2 cup of sugar
1 1/4 tsp of yeast
4 eggs
5 1/2 oz of butter
20 slices of cheddar
3 tbsp of water
4 garlic head
4 tomatoes
8 leaves of basil leaves
1 tbsp of parsley
---
Tools
Aluminum foil
Electric hand mixer
---
Step 1/6
Combine the warm milk together with yeast, sugar and two cups of flour. Whisk ingredients together. Cover the bowl with a towel and set it aside in a warm place for about 30 minutes. In a separate bowl whisk 3 eggs together. Add the eggs and 3.5 oz of melted butter to the dough mixture. Whisk in remaining flour in small portions. Knead the dough by hand or in a mixer until it becomes elastic. Add more flour if needed if the dough is too sticky. This will take 10-15 minutes. Cover the dough and let it rise for about an hour.
Step 2/6
Preheat the oven to 350°F. Cut the tops off of the tomatoes and scoop out the insides with a spoon. Place the tomatoes in the baking dish. Cut the tops off of the garlic, leaving the heads intact. Place 2 large basil leaves inside of each tomato, then place a whole head of garlic inside of each tomato. Drizzle olive oil over each garlic-stuffed tomato, then season with salt and pepper to taste. Cover the baking dish with aluminum foil and bake for 40 minutes. Remove from the oven, but keep covered.
Step 3/6
Once the dough has rested for an hour, punch the dough down in the bowl and divide it into two equal pieces. Roll each piece out into two pieces the size of your pan. On one round of dough, add the sliced cheddar in two layers of ten in a spiral. Then, add the other round of dough on top. Turn the pan, and with your bowl create indentations in the dough. Place the bowl in the center of the dough and squeeze the dough to create 'flower petals'. Let the dough rest for about 15 minutes. Combine the remaining egg and three tablespoons of water. Brush the dough with the egg wash, then bake the stuffed bread for 15 minutes.
Step 4/6
Remove the heads of garlic from the tomatoes, then add the tomatoes to a mixing bowl. Reserve one of the heads of garlic, then squeeze the cloves out of the other three tomatoes. Add the vegetable broth to the garlic and tomatoes. Purée with a hand blender until smooth and creamy. Taste for seasoning, then heat the mixture over low heat in a saucepan.
Step 5/6
In another saucepan, add the 2 oz. of butter and then squeeze out the cloves of the remaining garlic head. Add the chopped parsley, then melt the butter over low heat. Once the cheese bread is done, remove it from the oven and brush it with the garlic butter.
Step 6/6
Serve by placing the tomato soup in a bowl, then place it in the center of the bread flower. Add more fresh parsley or basil if desired. Tear off pieces of the flower petal cheese bread and dip them in the soup. Enjoy!