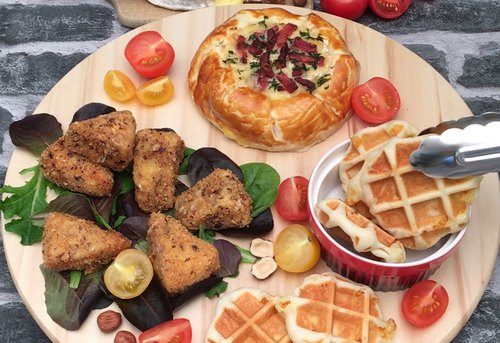 Camembert Bites
Little bites of heaven... Thank you cheesus!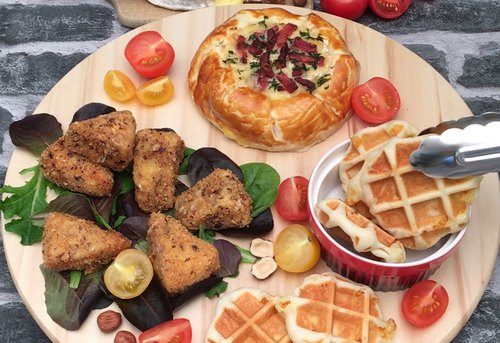 ---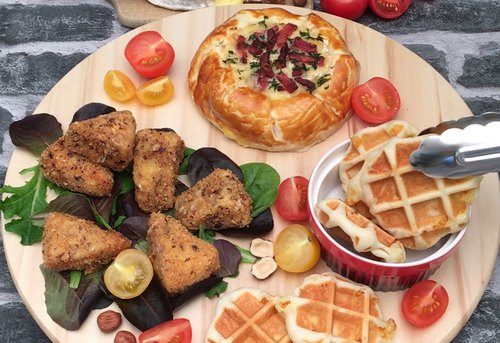 ---
Ingredients for 4 people
3 oz of hazelnuts
1 cup of breadcrumbs
3 wheels camembert cheese
1 1/4 cups of flour
2 eggs
3 1/2 oz of diced bacon
1 puff pastry
2 tbsp of garlic
1 cup of white wine
1 egg yolk
1 pizza dough
oil
parsley
---
Tools
Sheet pan
Parchment paper
Waffle iron
---
Step 1/3
Crush the hazelnuts and mix them with the breadcrumbs. Cut 1 camembert into 8 pieces, and coat them in flour, then beaten eggs, then the breadcrumb mixture. Fry until golden brown.
Step 2/3
Sauté the diced bacon. With a glass, remove the hear of another camembert. Place the remaining ring on top of the puff pastry on top of the parchment-lined sheet pan. Fold the pastry into the center of the camembert to cover it.Decorate the ring with the diced camembert heart, the bacon, the chopped garlic, the white wine, and chopped parsley. Paint with the egg yolk and bake for 15 minutes at 340 °F
Step 3/3
With a bowl, cut 6 discs in the puff pastry and put a piece of the last camembert on each. Seal the discs to make balls. Cook the balls in the waffle iron, and enjoy all of these camembert bites hot.