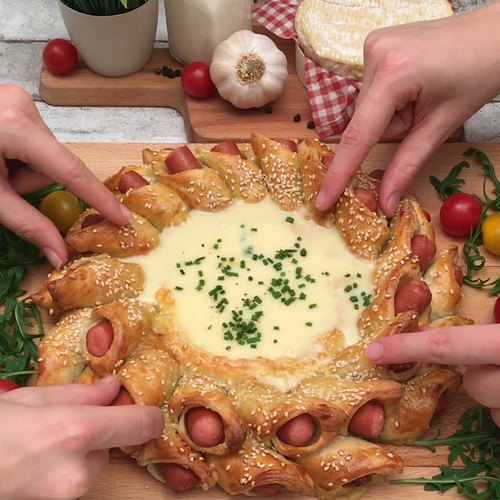 Sunshine Brie!
A warm sun for a cold winter's day...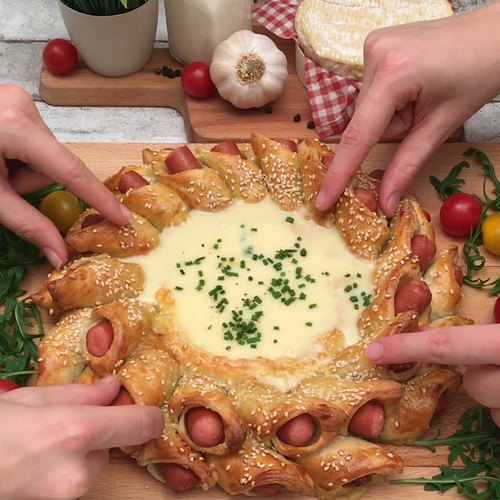 ---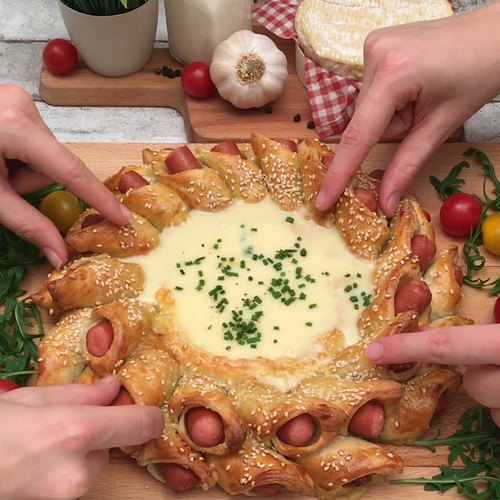 ---
Ingredients for 6 people
1 wheel of brie
2 cloves garlic
2 puff pastries
10 hot dogs
1 egg yolk
sesame seeds
chives
salt & pepper
parchment paper
---
Tools
Sheet pan
---
Step 1/4
Open the top of the brie, add chopped garlic, chives, salt, pepper, then close the cheese back up.
Step 2/4
Put the cheese on one of the puff pastries, then cover with the second. Pinch the two together, ensuring that the cheese is sealed inside, but leaving the edges separate. Make 15 cuts from the cheese to the exterior, like rays of sun.
Step 3/4
Cut the hot dogs in 3 pieces, then roll the pieces up in the flaps of the top puff pastry. Then, roll up the rest in the flaps of the bottom puff pastry.
Step 4/4
Place on the parchment-lined sheet pan, brush the whole thing with the beaten egg yolk, sprinkle the sesame seeds on top, then bake for 20 minutes at 350 °F. Remove the crusts and enjoy by dipping the hot dog rolls in the cheese.