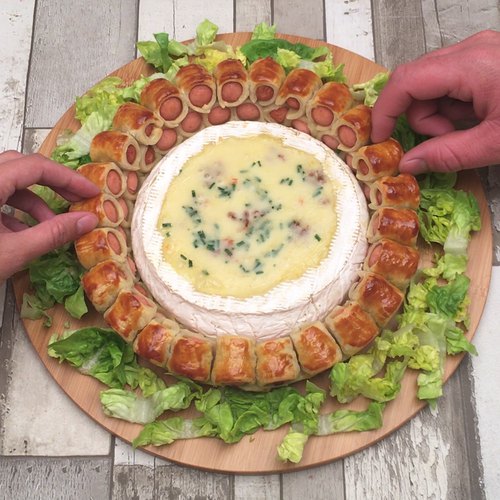 Cheese Fondue
Extra cheese = extra good.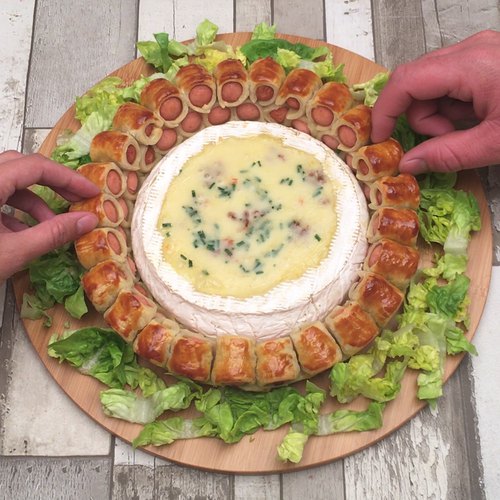 ---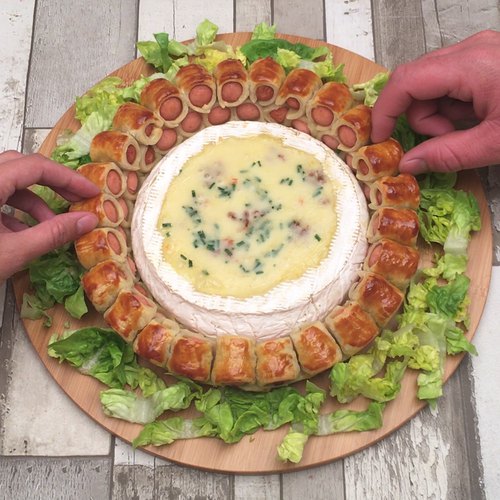 ---
Ingredients for 10 people
1 brie or camembert
sundried tomatoes
chives
garlic
2 puff pastry
10 hot dog sausages
egg yolk
---
Step 1/5
Using a knife, cut a circle out of the top of the camembert and remove the rind lid. Add chopped sundried tomatoes, finely chopped garlic and chopped chives into the top of the camembert.
Step 2/5
Put the rind lid back on the top of the camembert and place it in the middle of a circular puff pastry sheet. Arrange 5 of the hot dog sausages around the camembert, and fold the pastry edges over the top of the hot dogs, then cut each hot dog into fifths.
Step 3/5
Lift and rotate each hot dog piece about 194°F. On the second sheet of puff pastry, cut pastry strips the size of the hot dogs and wrap them in the pastry, then cut them into fifths again.
Step 4/5
Place the wrapped hot dogs in a layer on top of the previous ones to create a double layer around the camembert, then brush the pastry with egg yolk.
Step 5/5
Bake for 20 minutes at 400°F on a baking tray. Once cooked, remove the lid from the camembert and dip the hot dogs into the fondue.