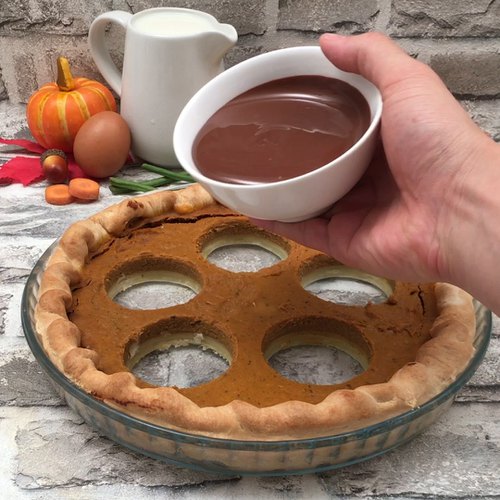 Recipe
8 Thanksgiving Hacks
Family convos might be hard, but these recipes aren't! 😎
Serves
6 people
Ready in
30 minutes
Gravy Skewer Tower: Cut the top off of a plastic bottle and fill with gravy. Freeze for 3 hours and use a box cutter to slice and remove the bottle. Wrap the frozen gravy in pizza dough, stand it vertically on a baking sheet, and bake for 30 minutes at 350° F. Remove from oven, cut off the top, and sprinkle with thyme. Dip skewers in the gravy and enjoy!

Gooey Pastry Apple: Core each apple and put a few mini marshmallows in the centers. Mix butter and sugar and put the mixture in a plastic bag. Cut a corner and squeeze to add the mixture to the center of the apples. Top with a few more mini marshmallows. Sprinkle cinnamon and sugar on a sheet of puff pastry. Roll the puff pastry into a thin strip and wrap it around the apples. Brush each with egg yolk. Bake for 45 minutes at 350° F. Slice and enjoy!

Cheese & Cracker Mini-Pies: Cut the cheese into triangular slices and place onto crackers. Put the cream cheese in a piping bag or a plastic bag with its corner cut. Use the cream cheese to adhere a piece of cracker on the side of the cheese to resemble a pie crust. Top each cracker pie with a dollop of cream cheese. Enjoy!

Personal Pumpkin Pies: Use a glass to remove several rounds from the pumpkin pie. Top with whipped cream and sprinkles and enjoy! Great for the kids table!

Baileys Pumpkin Pie: Using the leftover pie from the previous recipe, fill each hole with melted milk chocolate. Tilt the pie dish around the thoroughly spread the chocolate, then flip it quickly over a plate to remove the excess chocolate. Chill the pie for 30 minutes. Fill each hole with Baileys and top with whipped cream and sprinkles. Insert a straw in each hole and enjoy! Great for the adult table!

Berry Bundt Beverage: Fill 3/4 a bundt pan with mixed berries, figs, grapes, and slices of lime. Fill the pan to the top with water and freeze for 3 hours. Remove the ice mold and flip it (flat side down) into a large bowl. Fill the bowl with cranberry juice and sprite and garnish with mint leaves. Enjoy!

Thanksgiving Feast Platter: Use foil to separate 1/4 of a cake tray. Line this section with puff pastry and fill with pumpkin pie filling. Fill the rest of the pan with stuffing, biscuits, potato wedges, sweet potatoes stuffed with mini marshmallows, green beans, and cranberry sauce. Lay turkey breast on top of the stuffing and bake for 30 minutes at 350° F. Pour cheese sauce over the potato wedges, serve, and enjoy!

Thanksgiving Gravy Soup: Use an ice cream scoop to put 3 balls of mashed potatoes in a soup bowl. Add 3 turkey meatballs and fill the bowl with gravy. Top with croutons, green beans, and thyme. Enjoy!
It's ready!
SIGN UP
FOR FREE
TO SEE THE RECIPE
Discover the Chefclub cookbooks
More Chefclub recipes
Find Chefclub's top recipes in our best-of collection boxed set. These books compile our most-liked recipes from the community with tons of photos, set-by-step instructions, and kitchen tips! With these books you'll be able to create easy and tasty original recipes for any moment.
DISCOVER THE BOOK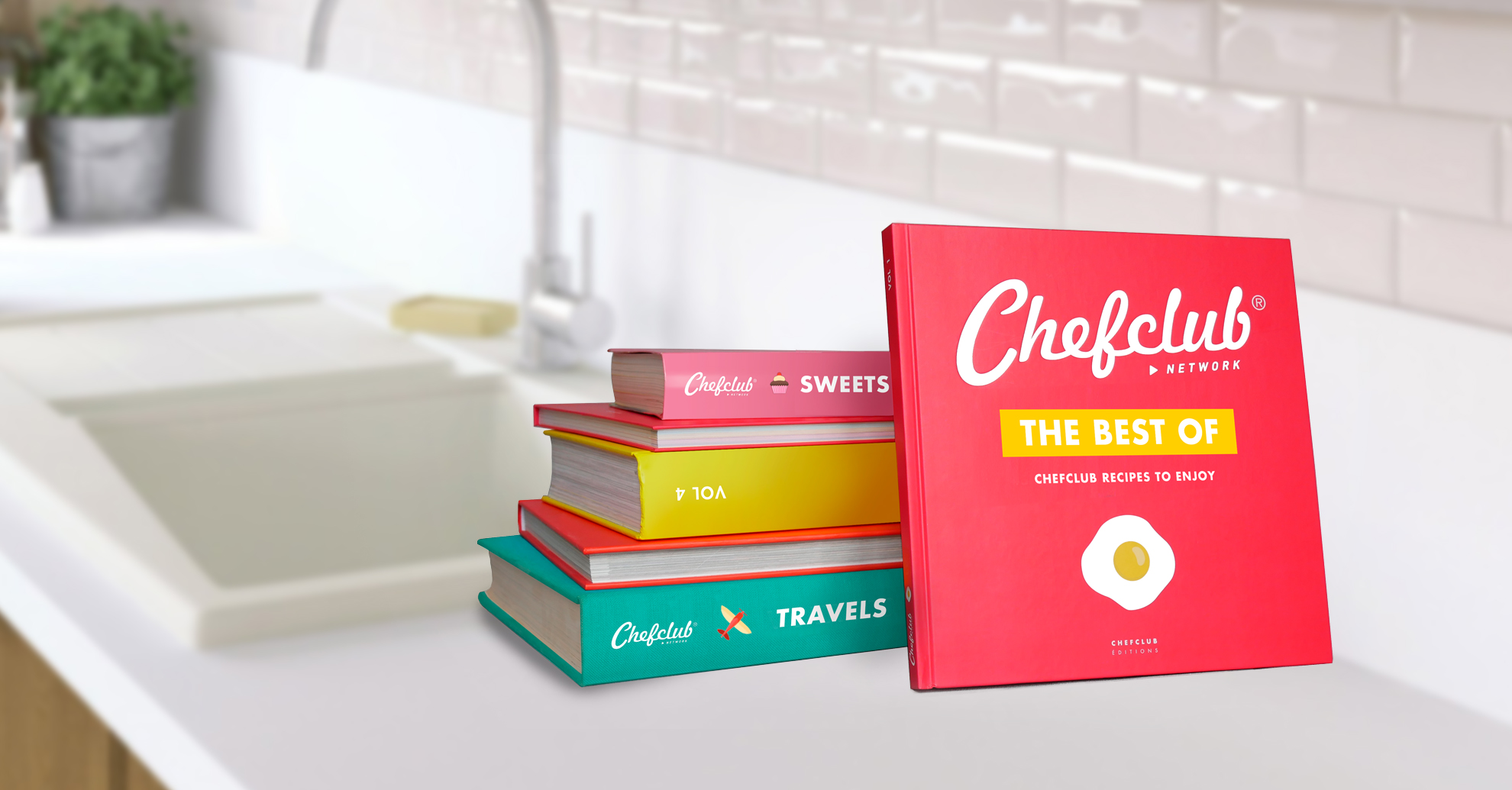 The best of - 45 recipes to share
Chefclub desires to transform the kitchen into a space of sharing and fun. The videos, and now this first book are there to guide, inspire, amuse but mostly share. Share with famil...