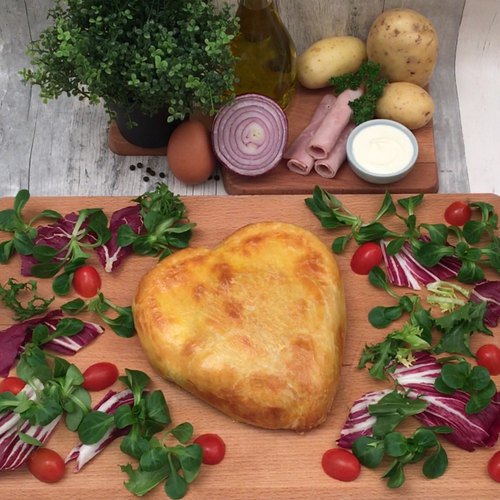 Potato Heart
Full of love, full of potatoes. 💘😍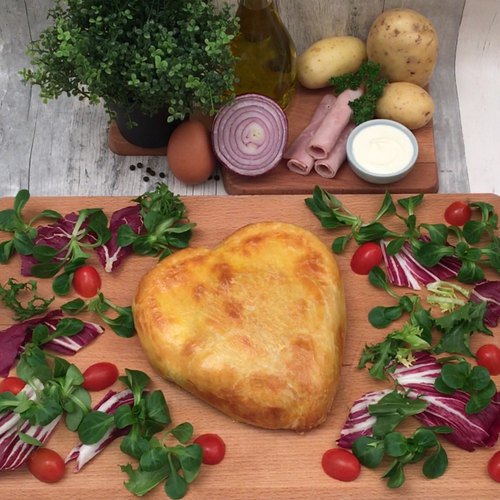 ---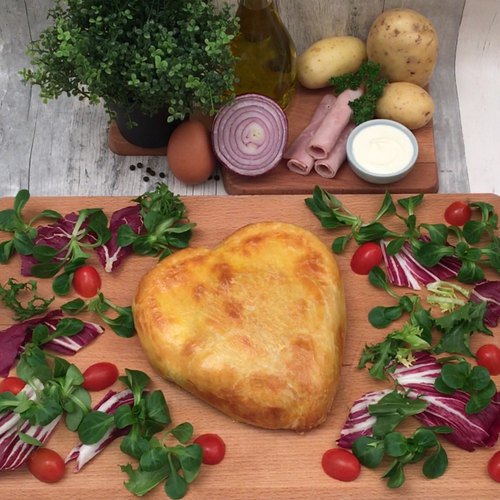 ---
Ingredients for 4 people
1 wheel reblochon cheese
1 puff pastry
6 slices of ham
1 potatoes
3 tbsp of sour cream
1 red onion
2 egg yolks
salt & pepper
parsley
---
Tools
Baking tray
Parchment paper
---
Step 1/3
Cut the reblochon in half and place the 2 halves in the middle of the puff pastry at a 90° angle to form the top of a heart. Fold 3 slices of ham and place them in a square between the cheese halves to form the heart.
Step 2/3
Peel the potatoes, cut them into slices and fry them in a pan. Place half of them on the ham. Spread half of the sour cream on top, add red onion rings and place the rest of the potatoes on top. Continue with the remaining sour cream, chopped parsley, salt, and pepper and finish with the remaining slices of ham.
Step 3/3
Fold the puff pastry over the heart and tuck it tightly around to make a large heart. Place on the baking tray lined with parchment paper, brush with egg yolk, and bake for 20 minutes at 350 °F. Serve hot right out of the oven.