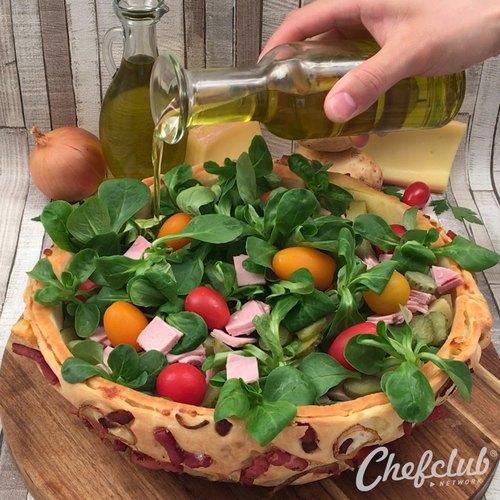 The Best Salad You'll Ever Have
The Best Salad You'll Ever Have! Equal parts salad and cheese, the only way it should be. 🥗🧀🍞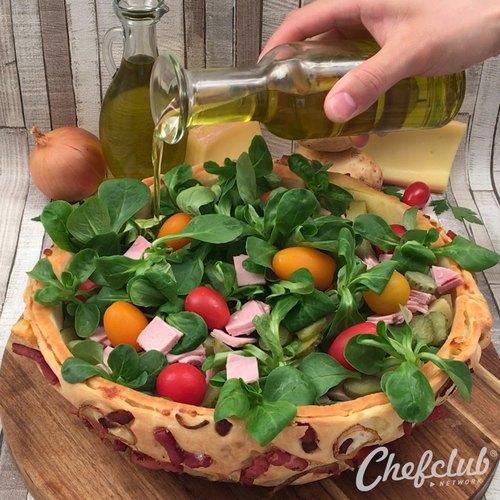 ---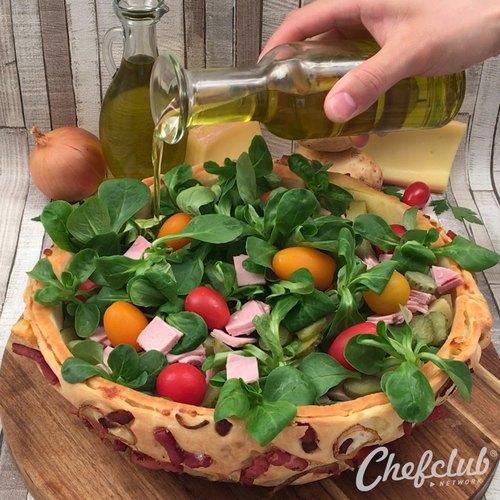 ---
Ingredients for 6 people
1 onion
2 pizza doughs
5.3 oz of diced bacon
15 slices of raclette cheese
2 potatoes
4 slices of ham
10 cherry tomatoes
lettuce
pickles
olive oil
balsamic vinegar
---
Tools
Rolling pin
Salad bow
---
Step 1/3
Slice the onion into rings and arrange them on top of one of the pizza doughs. Add the cooked and chopped bacon and press it all into the dough with the rolling pin.
Step 2/3
Turn the dough over and place the slices raclette cheese on top, then cover it with the second dough, sealing the edges well. Place the dough on the upside down salad bowl with the bacon part facing upwards. Bake for 20 minutes at 350 °F.
Step 3/3
Take the bowl out of the oven and fill it with lettuce, diced cooked potatoes, chopped ham, pickle slices, and cherry tomatoes. Dress with olive oil and balsamic vinegar and enjoy!