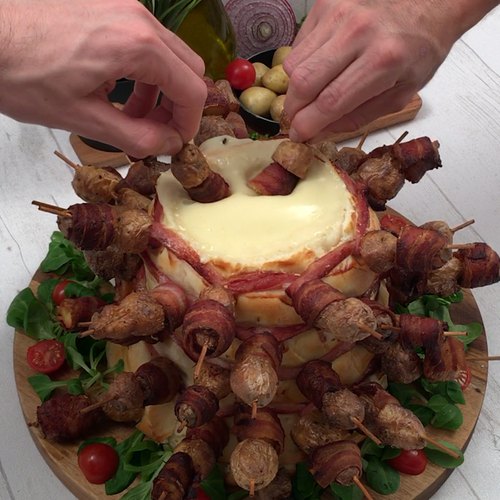 Happy Tower
It's a happy hour snack tower!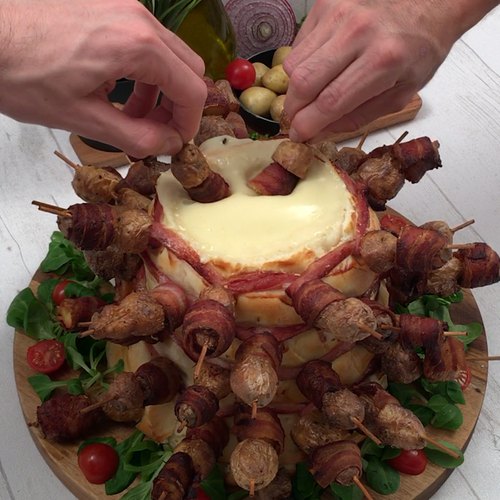 ---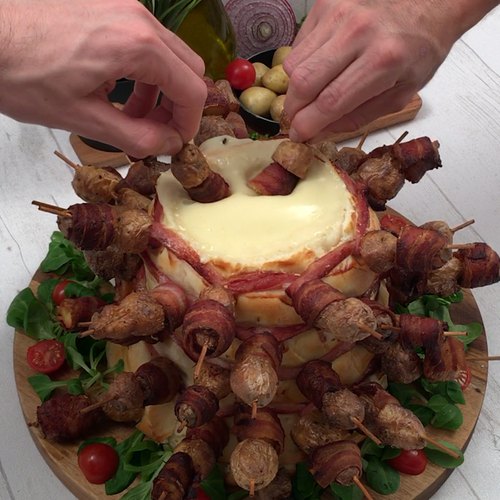 ---
Ingredients for 8 people
3 1/3 lbs of fingerling potatoes
5 wheels camembert or brie cheese
2 pizza doughs
30 slices of bacon
olive oil
herbs de provence
salt & pepper
1 baking dish
---
Tools
Sheet pan
Skewers
---
Step 1/4
Place the potatoes in a baking dish with a drizzle of olive oil, salt, pepper and herbs de Provences and place in the oven for 10 minutes at 350 °F.
Step 2/4
Stack the cheese wheels and coat them firmly in the 2 pizza doughs. Stick the skewers into the tower.
Step 3/4
When the potatoes come out of the oven, cut all the potatoes in half and cover half of the potato halves with bacon slices. Wrap the remaining bacon slices around the skewers, joining several skewers together.
Step 4/4
Place all the potatoes on the skewer spikes coming out of the cheese tower and place in the oven for 25 minutes at 350 °F. Remove the top layer of dough and cheese rind from the oven and dip the skewers into the cheese.